Twitter Spaces, a Clubhouse clone feature which allows users to participate in live audio chats, is now available to everyone with 600 followers or more.
It was launched in December 2020, Twitter Spaces and was initially available to a small feedback group. It's not known what the criteria was for being accepted into the test group, but Twitter says millions of people have had access prior to today.
Spaces is rolling out to all Twitter accounts with 600 or more followers. Updates have been made based on feedback from the initial group of users. From now on the top of peoples' Twitter timelines will look different, with more purple bubbles indicating when other users are hosting or participating a live audio conversation.
From Tweeting to talking, reading to listening, Spaces encourages and unlocks real, open conversations on Twitter with the authenticity and nuance, depth and power only the human voice can bring. Spaces are for small and intimate conversations with just a few others, or for big discussions about what's unfolding right now with thousands of listeners

Twitter Blog
When someone you follow on Twitter, hosts a Space on Twitter, you can see a purple bubble at the top of your screen. The bubble glows for as long as the person is live on the app. You can join the session or a conversation as a listener and can even react to what the person is saying using emojis follow along with captions, Tweet or DM Space, or request to speak. You will be granted permission to speak only if the host allows you in. In a large group, you may never get a chance to speak, but you can always react using emojis as per blog.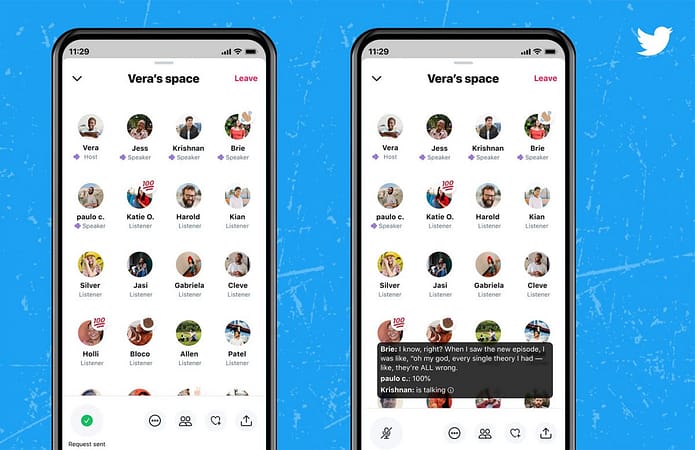 Host of Other Features
Twitter has launched other features based on the users feedback.
Monetization
Now the Hosts can set ticket prices and how many are available to sell. A limited group will be able to host Ticketed Spaces in the coming months. Hosts earn the majority of the revenue from ticket sales and Twitter will keep a small amount as well.
Schedule and Reminders
Users will also be able to schedule and set reminders for upcoming Spaces in the coming weeks. This way, people don't miss hearing from their faves.
Co-Hosting
Twitter users can soon host Spaces with their friends. Both hosts will share the same privileges, which will be helpful when managing large chats. In addition, this grants the ability for one host to leave the Space while the other host keeps it running.
Accessibility
Twitter Spaces will become more accessible with improvements to live captions that allows hosts to pause and customize captions for greater accuracy. Users will also be able to scroll back and read captions they missed. Twitter is exploring ways to improve its automatic captioning algorithm, and is looking to add support for more languages.
Discoverability
To make it easier for people to find Spaces, Twitter will add purple bubbles around users' profile photos. This feature works the same way as the blue ring that indicates when a user published a story. When a users tweets while hosting a space, a purple bubble will appear around their profile photo in other peoples' timelines.
In other news, WhatsApp has finally launched the voice and video calling from desktop (Windows and Mac), Check out the steps to enable it.