In brief: Piracy is back in fashion, and it's not (just) because of One Piece. After seeing years of falling figures, the European Union is experiencing an uptick in online piracy, which actually declined during the worst of the pandemic and the lockdowns.
The European Union Intellectual Property Office's most recent biannual report on copyright infringement in the UK and Europe makes for some interesting reading. Based on data from MUSO, a UK tracking firm, the years-long decline in piracy traffic has reversed since the start of 2021.
According to the report, 48% of all piracy comes from the illegal viewing of TV content, the most popular category. It adds that 58% of this practice is done via streaming sites, while 32% of pirates download their episodes from torrent-based file-sharing sites.
The data includes live sports piracy for the first time. It shows the category has increased by around 75% between the start of 2021 and the end of 2022.
One category that hasn't seen an uptick is music piracy. Once an incredibly popular area, the industry's crackdown on music piracy services and sites has been proving successful.
It's easy to blame Covid for piracy becoming more accepted. The Motion Picture Association previously said piracy increased during the lockdowns and continues today as consumers are more comfortable being able to access copyrighted material through illegal services.
MUSO's data, on the other hand, shows that piracy actually dropped during the pandemic. Film piracy showed an especially rapid decline. The dip is attributed to more users opting for legal means to access platforms featuring content they are interested in, along with fewer outdoor activities to spend money on during the lockdowns.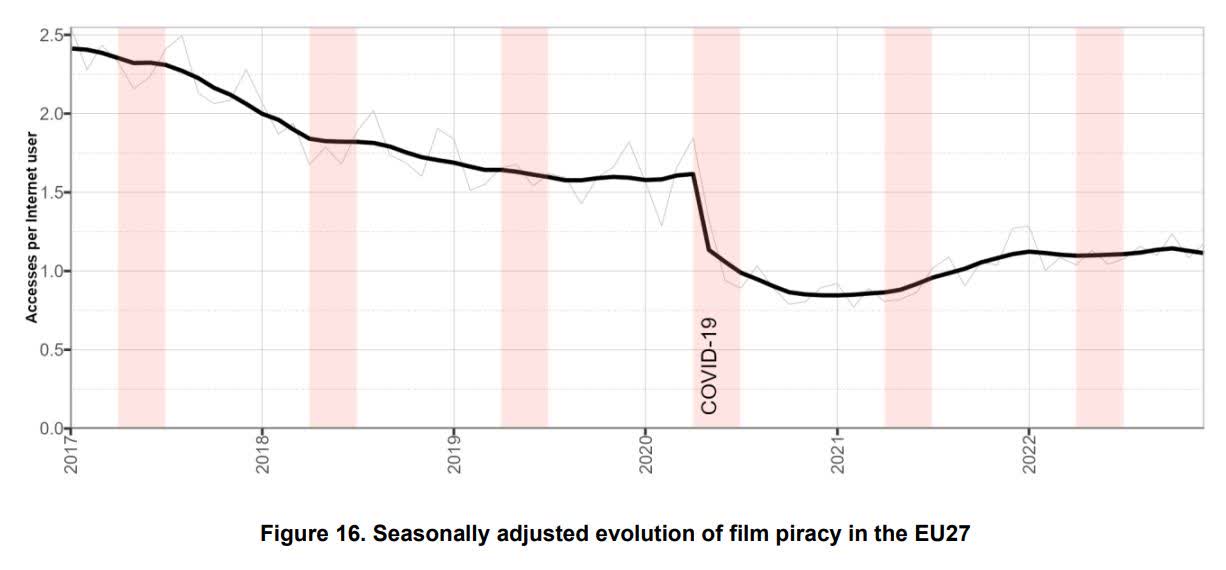 The report notes that the availability of more legal streaming services helps reduce piracy in some countries. There are also factors such as a nation's capita per income, level of income inequality, and percentage of youth unemployment influencing how popular piracy is in each region.
While piracy is on the rise, levels still aren't as high as they were in 2017 and earlier. However, one has to wonder if streamers such as Netflix and Apple TV increasing their prices will push more people to this option.
MUSO's data comes from tracking traffic to piracy websites, along with information from official databases such as EUROSTAT, and from the EUIPO IP Perception studies. What it doesn't include is IPTV piracy, which has grown into one of the most popular ways of consuming pirated content. If the hard-to-measure IPTV data was part of the report, the figures would no doubt be a lot higher.
h/t: torrentfreak