Now that streaming TV has made a fragmented mess of televised sports coverage, the race is on to help users pick up the pieces.
Slowly but steadily, companies are assembling menus to guide users through an array sports streaming options. Companies such as Apple and Roku have already created central hubs where you can find games from across different services, and ESPN reportedly wants to build one of its own.
But just like existing universal guides for movies and shows, these sports menus have limitations. None of them list all the available options for watching your favorite team, and they might even steer you toward extra subscriptions you don't need. That means figuring out where to watch a particular basketball or baseball game will still take some effort.
Roku's Sports guide debuted last November as a new sidebar option on the Roku home screen. From here, you can view a list of live and upcoming games, browse by sport, and (of course) view free sports-related content from The Roku Channel. Voice search is supported as well, so you can track down a specific game using the mic button on supported remotes.
While Roku deserves credit for trying to wrangle all your sports streaming options, the current menu is still too limited. You can't follow specific teams or leagues, nor can you get notified of upcoming games. The menu's also missing a bunch of sports, including golf, racing, tennis, and rugby.
Roku says it will add follow capabilities and golf listings in the "coming months," but there's a bigger problem: The list of streaming sources isn't comprehensive enough.
Roku's menu is incapable of referring you to YouTube TV or Hulu + Live TV, which are the two most popular live TV streaming services today. It also doesn't support ESPN+, Bally Sports+, or MLB TV (though Roku says the latter is coming). Streaming companies' aversion to recommending an antenna remains discouraging as well, but it's not surprising given the lack of money to be made from it.
The Apple TV app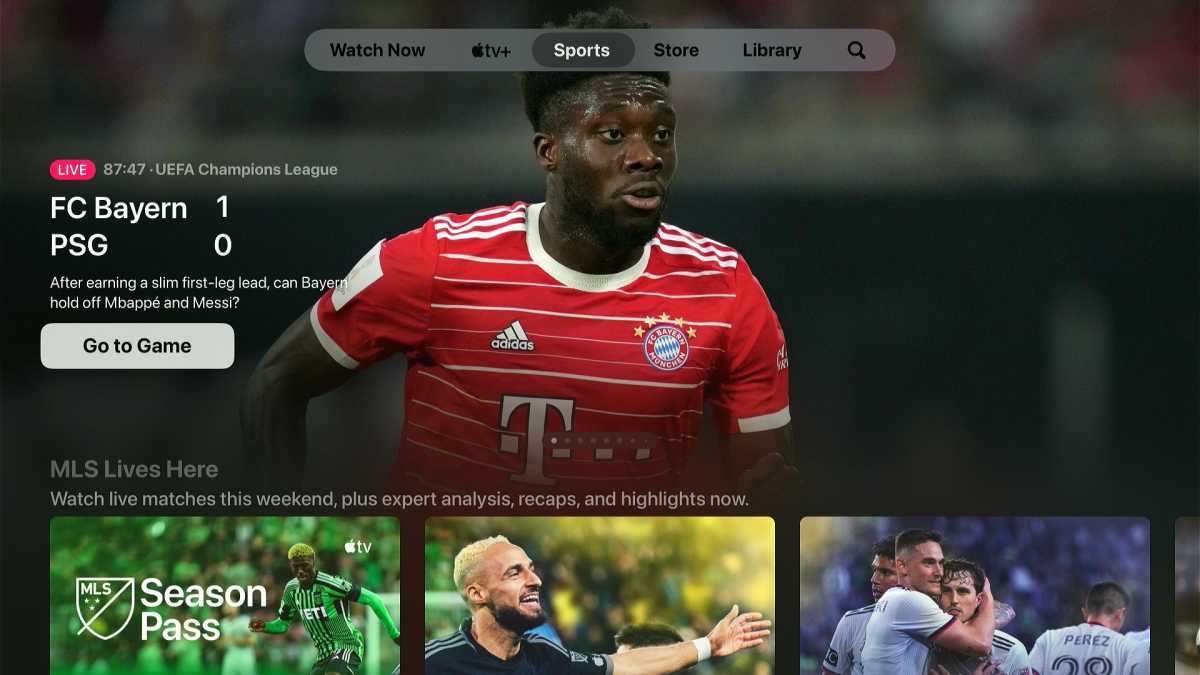 Jared Newman / Foundry
Compared to Roku, Apple's been aggregating sports streaming options for much longer. The "TV" app on Apple TV devices has a dedicated sports tab, where you can see what's on and follow your favorite teams. The app can even provide notifications when a game's about to start or if it's coming down to the wire, so you can quickly jump over to watch.
But Apple's sports streaming guide is also missing some major sports sources. It doesn't integrate with YouTube TV, Hulu + Live TV, or Sling TV, and like Roku, it provides no details on what you can watch with an antenna.
Apple's guide also has some quirks. In one instance, a college basketball game airing on FS1 didn't list FuboTV as a video source even though Fubo carries that channel. And unlike on Roku, you can't use voice search to track down specific games. Siri will show you the score, but no links to actually start watching.
The menu itself is overly cluttered as well, with row after row of leagues in no particular order. There's no single view of all live games at the top, and the ability to browse by sport is way down at the bottom.
The JustWatch guide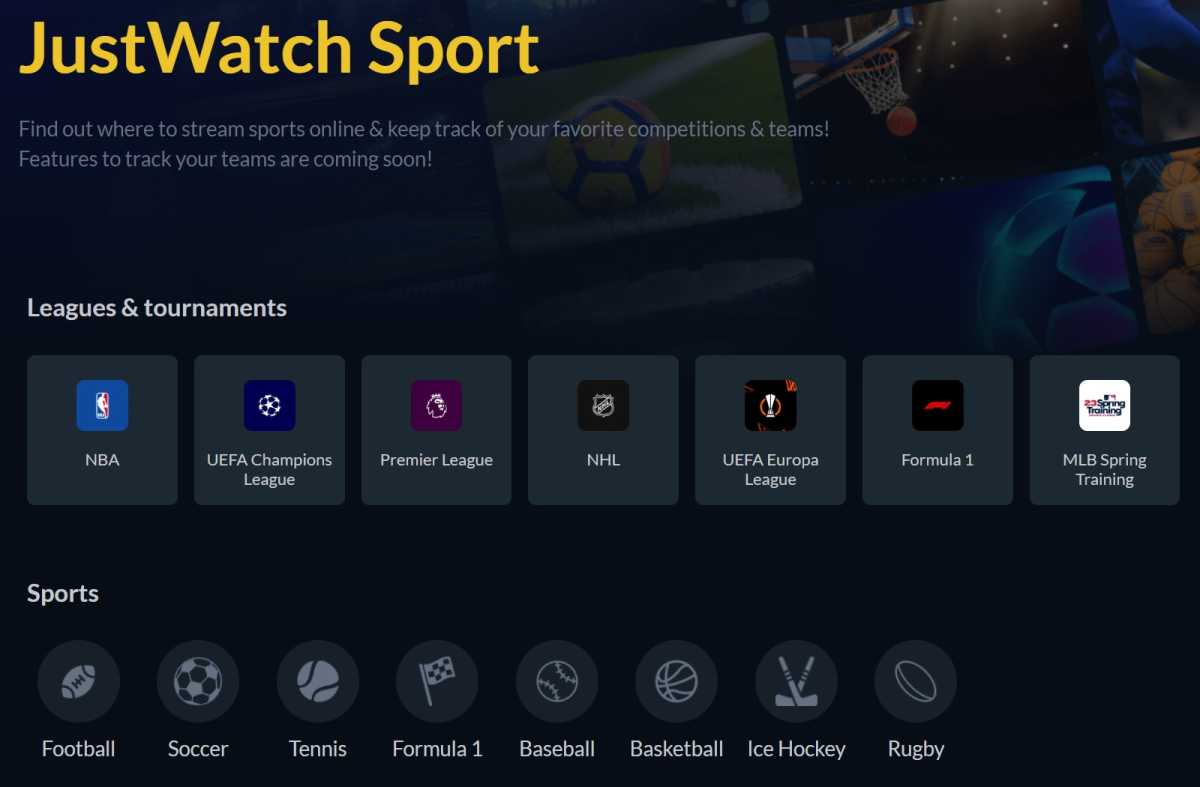 Jared Newman / Foundry
JustWatch has long been a helpful resource for figuring out where to stream a particular movie or TV show, and it expanded to sports last fall. Through the "Sports" section of JustWatch's website and mobile apps, you can view a list of live sporting events and browse by league.
But for U.S. users, JustWatch's guide is in rough shape. You can't follow leagues or teams, and its only streaming channel bundle integration is with FuboTV. Even worse, the basketball section doesn't cover college hoops. Without major feature upgrades, JustWatch's sports guide is best avoided entirely.
ESPN sports hub rumors
It is into this environment that ESPN is reportedly looking to build a hub for streaming sports, to which I say: Good luck.
According to CNBC, ESPN is in talks with both leagues and other streaming services about linking to them through the ESPN app and website. If users aren't already subscribed to those services, the idea is that ESPN would collect a sales commission for the referral.
Again, this all sounds great in theory, but unless ESPN magically manages to make a deal with every streaming service and league, odds are it'll just result in another incomplete view of where to watch live sports.
ESPN would also be hamstrung if it wanted to offer this experience on TV devices. At present, Apple TV and Android TV/Google TV are the only streaming platforms that allow apps to deep link into other apps' video content. Roku has never allowed this, Plex recently removed its deep linking features on Fire TV at Amazon's request.
The bigger problem with sports streaming
I don't want to be entirely nihilistic about this. Sports streaming is a mess right now, with games scattered across both cable channels and a slew of standalone streaming services as natural outcome of TV's slow unbundling. Apple, Roku, and even JustWatch deserve credit for trying to make sense of it all, and if more companies want to take a crack at the challenge, I'm all for it. (On that note, it's surprising that Google and Amazon haven't already done so.)
Still, the battle for your streaming TV home screen has long been mired by conflicting interests, petty business disagreements, and shortsightedness on the part of some streaming providers (ahem, Netflix). All this prevents us from having a true universal guide to streaming, and sports will be no different.
Sign up for Jared's Cord Cutter Weekly newsletter for more streaming TV tips and insights.