Sony has announced the latest and greatest iteration of its flagship noise-cancelling true wireless headphone, the $299 WF-1000XM5. This new model replaces the WF-1000XM4 atop Sony's in-ear lineup and lists for $20 more than its predecessor.
Sony seeded advance hardware samples with the press, including TechHive, but a technical glitch prevented some reviewers from acquiring the beta version of Sony's mobile software that is required to conduct a comprehensive review. A Sony spokesperson told us late last week that "only a random few were able to access the [beta version of] the app."
So, we are instead publishing this in-depth hands-on preview with first impressions and will follow this story up with a full review and bottom-line rating as soon as the final software becomes available, when the new earbuds ship to consumers. The Sony WF-1000XM5 are available for pre-order now.
This news story is part of TechHive's coverage of the best noise-cancelling headphones.
At a glance
Here's the elevator pitch summary: Sony took some of the drool-worthy noise-cancelling and phone-calling features from its WH-1000XM5 over-the-ear headphone (TechHive's top pick in over-ear noise-cancelling headphone) and ported them to the true wireless WF-1000XM5. Sony also made key refinements that address some of the WF-1000XM4's relatively few shortcomings. The result is a worthy successor and a new flagship.
Sony's best noise-cancelling true wireless headphone
Theo Nicolakis/Foundry
With its WF-1000XM5, Sony ups the ante in the heated noise-cancelling, true wireless headphone war. These in-ear headphones sport Sony's best noise-cancelling performance yet, with performance in four key areas that represent a leap forward over the previous generation:
Upgraded, larger driver: The WF-1000XM5 uses a larger 8.4mm driver vs the 6mm driver in the WF-1000XM4. Sony's marketing folks call it Dynamic Driver X, and Sony says this larger driver can render lower frequencies than its predecessor while also reducing distortion. That means the WF-1000XM5 improves noise cancelling performance at lower frequencies and reproduces music cleaner.
Additional feedback microphones: There are six total microphones on the WF-1000XM5 compared to the four on the previous generation. This includes dual feedback microphones that Sony says monitor noise present in lower frequencies more precisely than the prior generation. The dual feedback microphones register more environmental data points and a wider frequency spectrum for analysis that the larger driver can take advantage of.
Dual processors, for both its microphone and environmental analysis: The WF-1000XM5 sports next-generation dual processors, the QN2e and the V2. Sony says its QN2e processor exacts precise control over the six onboard microphones, while the V2 processor supports real-time processing of the outside environment.
Wind noise reduction: Wearing a noise-cancelling headphone in windy conditions is an abrupt and often unbearable experience. With the WF-1000XM5, Sony has taken great pains to mitigate wind-borne artifacts from disturbing your musical enjoyment, your cone of silence, and your phone calls. The WF-1000XM5 now has a wind noise-reduction structure and a mesh wrap around its microphones to minimize noise during calls, so your voice is heard clearly even in windy conditions. As with the previous generation, the WF-1000XM5 senses the kind of noise it needs to cancel (airplane, train, subway, car, and so on) and adapts its algorithm accordingly. Each of these settings can be fine-tuned in the companion mobile app.
Intelligible calling in noisy environments comes to the true wireless market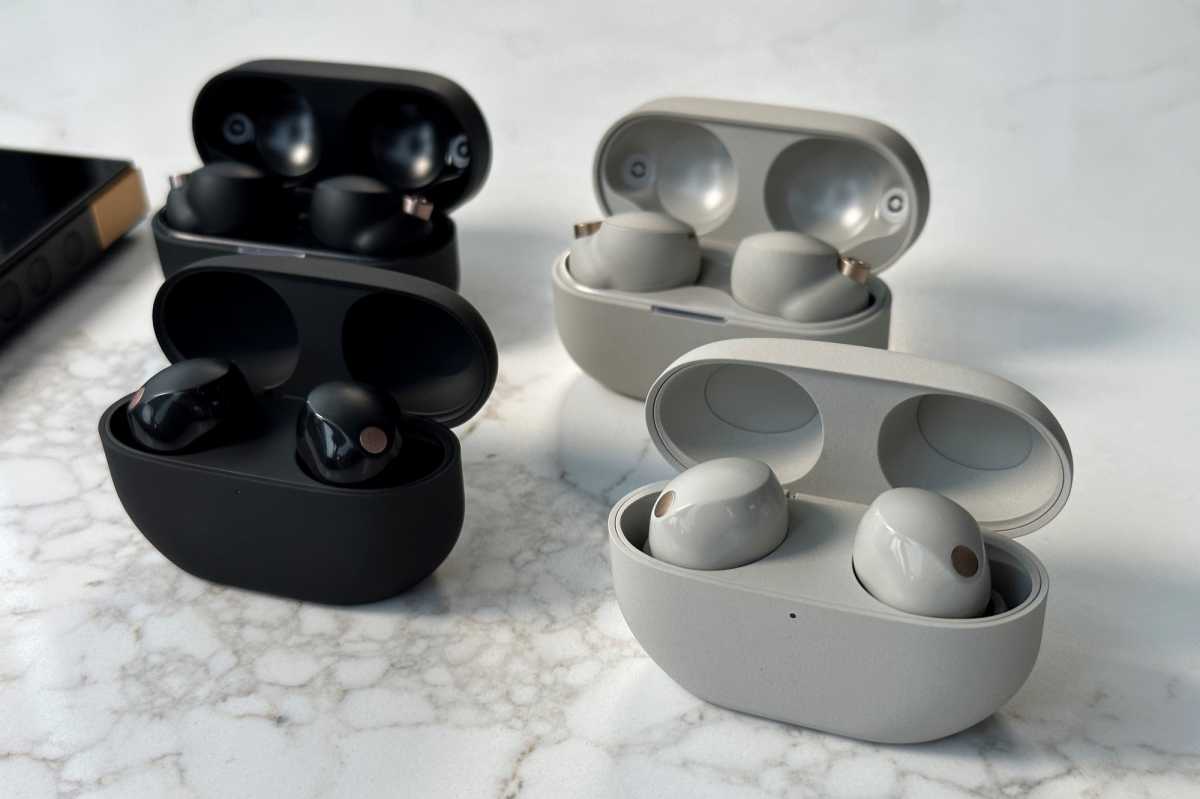 Theo Nicolakis/Foundry
As I found in my WH-1000XM5 over-the-ear headphone review, Sony has once again introduced a revolutionary leap forward with call intelligibility in noisy environments. In that review I wrote, "I made calls on sidewalks, trains, park benches, and the busy streets of Manhattan. Each time, people on the other end couldn't hear the cars, construction, or even motorcycles during our calls." With its WF-1000XM5, Sony brings that same technology and performance to its true-wireless product line for the first time.
To achieve this feat, Sony says its used AI machine learning to analyze 500 million voice samples to separate a human voice from environmental noise. What's more, the WF-1000XM5 sports a bone conduction sensor to identify when you're speaking, detecting your voice from the vibration of your bones. Sony's engineers combined the two approaches to form a genuinely impressive and highly effective, as you'll read in more detail in my forthcoming review.
Rich codec and Hi-Res audio support: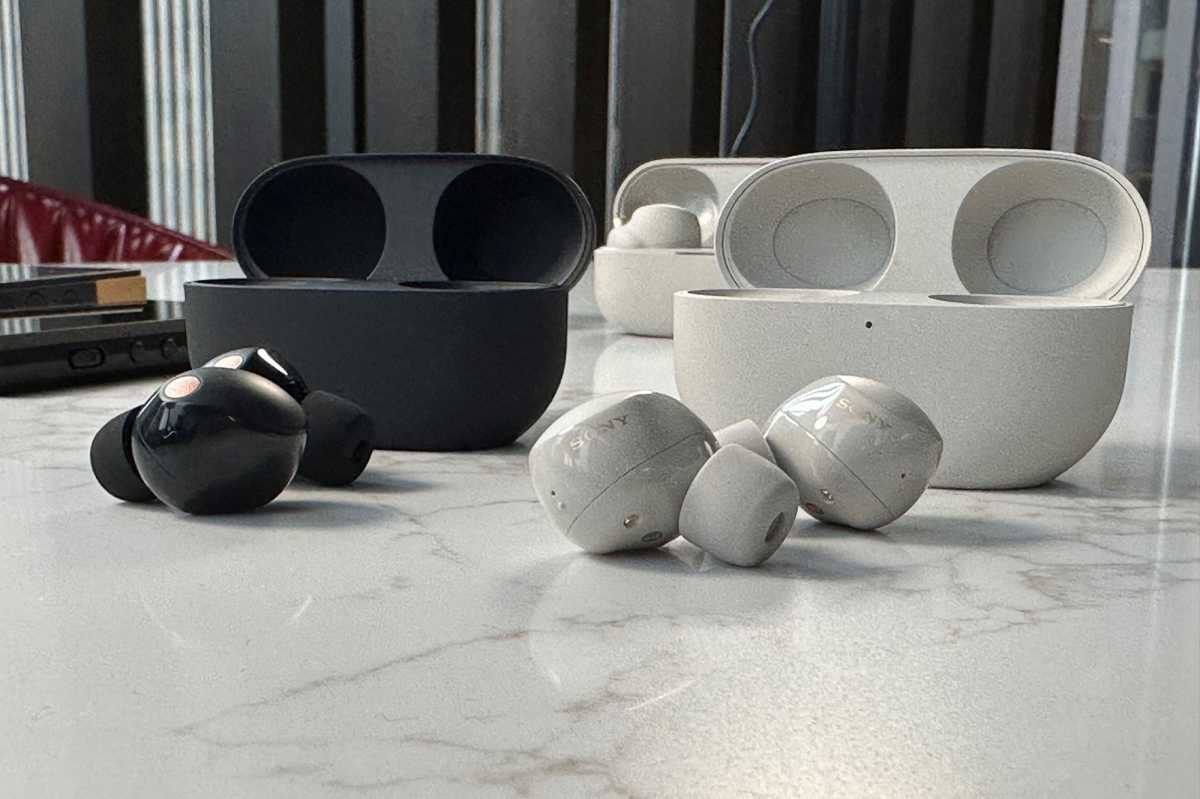 Theo Nicolakis/Foundry
Sony says that the WF-1000XM5 features a higher-quality DAC compared to its predecessor, and 24-bit signal processing that should reduce distortion over the previous generation.
Codec support is on par with previous models with a few notables. The WF-1000XM5 supports Sony's own LDAC high-resolution codec and Apple's AAC codec. LDAC is a certified Hi-Res audio codec, capable of transmitting 24-bit/96kHz audio at a maximum bit rate of 990Kbps over Bluetooth. That's approximately three-times more data than conventional Bluetooth audio. Unsurprisingly, the WF-1000XM5 lacks support for Qualcomm's aptX family of high-res codecs, which compete with LDAC.
The WF-1000XM5 also includes Sony's DSEE technology, which the company says upscales compressed digital music files in real time, including those from streaming services.
In line with the prior generation, the WF-1000XM5 supports Sony's 360 Reality Audio and goes through a personalization calibration through the mobile app during setup.
The WF-1000XM5 also supports head tracking to automatically adjust the headphone's sound field to compensate for your head movement. If you're not familiar with head-tracking technology, it aligns a sound's direction with your smartphone screen even while you move your head. You'll need spatial sound content (available on Netflix and YouTube, among other sources) and a compatible smartphone running Android 13 or higher to take advantage of this feature.
Gamers, meanwhile, should rejoice that the WF-1000XM5 now supports low-latency LE audio over Bluetooth.
Other tech in the Sony WF-1000XM5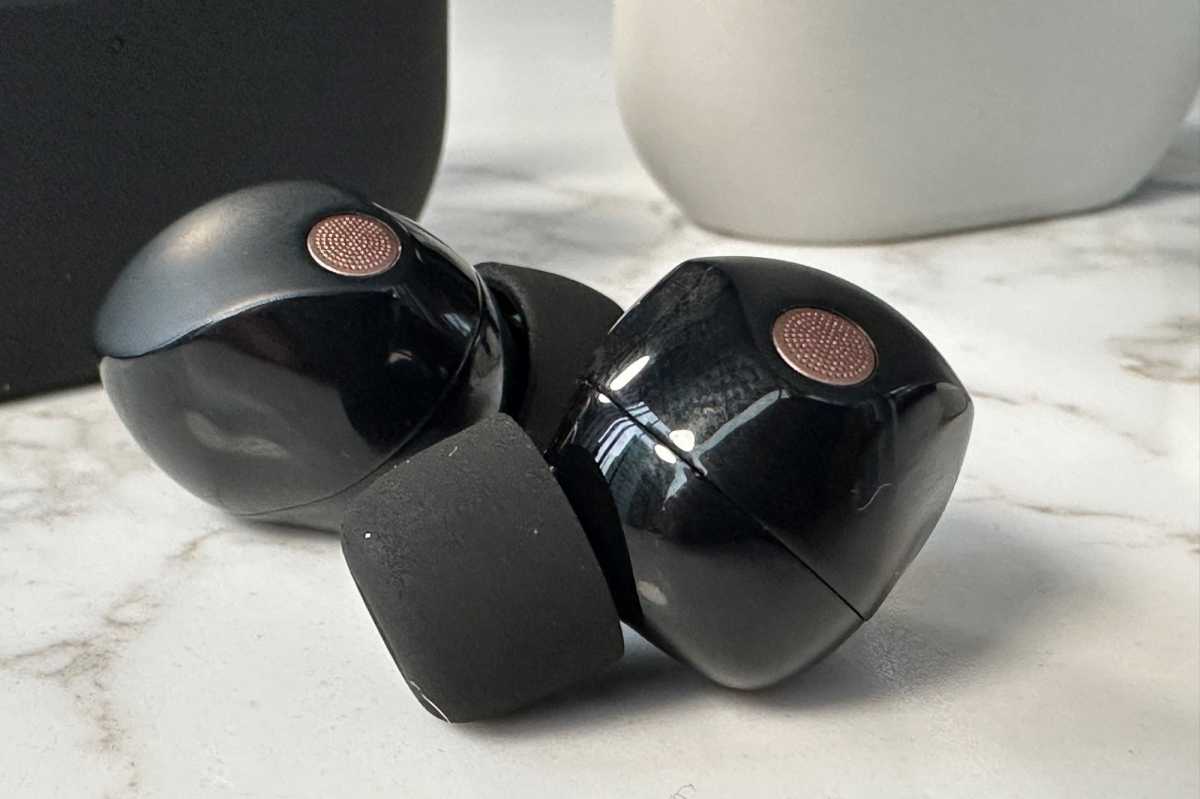 Theo Nicolakis/Foundry
As you'd expect from a Sony true-wireless headphone, the WF-1000XM5 is packed with complementary technologies and design features to enhance your experience. The WF-1000XM5 are IPX4 rated to for protection from splashes of water, making them ideal for sports activities where they might be exposed to sweat or light rain. They are not rated for submersible use or exposure to extreme dust conditions.
The WF-1000XM5 comes with Sony's Adaptive Sound Control, Speak-to-Chat, and Multipoint Connect features. The latter lets you pair two Bluetooth devices simultaneously. Sony says the WF-1000XM5 take advantage of the V2 processor to transmit a Bluetooth signal simultaneously to and from both ears, so you can enjoy stable sound. I had no issues to date with the two earbuds communicating.
The WF-1000XM5 supports both Google and Alexa assistants, just say "Ok Google" or "Alexa" to activate your preferred digital voice assistant. The WF-1000XM5 also allows you to control the features of your earbuds, including activating noise cancellation, with your voice.
The Sony WF-1000XM5 are comfortable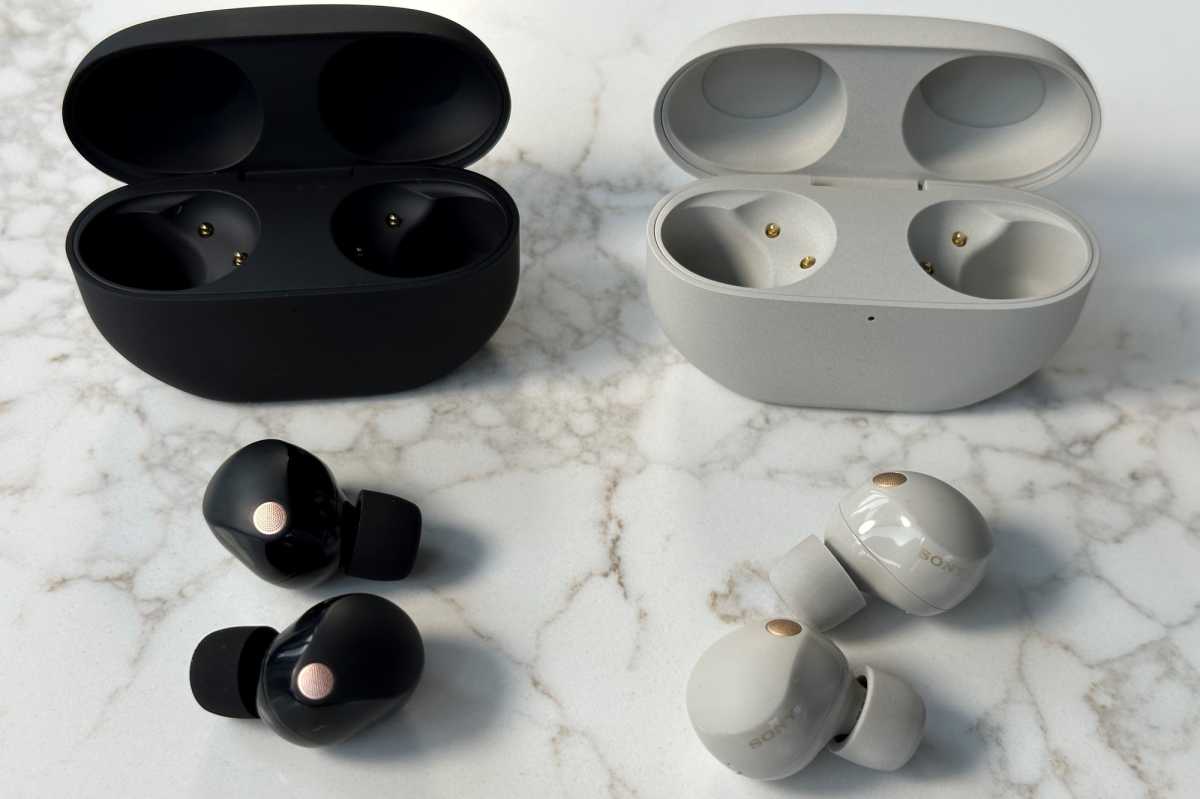 Theo Nicolakis/Foundry
Sony paid significant attention to refining the WF-1000XM5's overall comfort. The earlier WF-1000XM4 are big and they feel big inside your ears. That's not the case with the WF-1000XM5, which are about 25 percent smaller and nearly 20 percent lighter.
The WF-1000XM5 feel more natural to the contours of my ears, with a design that's perfectly adapted to keeping them securely in my ears. The new earbuds' charging case is smaller, too, by 15 percent.
In my Sony WF-1000XM4 review, I noted how the included polyurethane foam tips exerted more pressure inside my ear than traditional silicone tips. It seems I wasn't the only one, and Sony has heard that feedback. While the tips for the WF-1000XM5 are still polyurethane foam-based, they are now smaller. Sony has also included a new extra-small (XS) size to serve a broader consumer base. Thankfully, Sony redesigned the internal structure of the ear tips to make them more flexible and easier to squeeze. The tips come standard with an ear wax protection screen to keep ear wax out of the critical canal and the earbud driver canal itself.
Sony's redesign delivered two immediate real-world benefits: First, the WF-1000XM5 ear tips are significantly more comfortable; alleviating a significant amount of the in-ear pressure I experience with the the prior model; drastically reducing ear irritation during long listening sessions. That said, I still felt their presence more than the Bose QuietComfort Earbuds II or the Apple AirPods Pro. Secondly, I did not need to compress the memory foam tips before inserting them in my ears as I frequently needed to with the WF-1000XM4. And when I did, it was easy and reliable. With the previous-generation WF-1000XM4, I sometimes had to remove the ear buds and re-compress them to get them to fit properly.
Expanded tap-based gesture for volume control
The previous-generation WF-1000XM4 featured triple-tap and tap-hold touch operations. Sony has now added a four-tap option to both earbuds for volume up and volume down, bringing the WF-1000XM5's touch option functionality in line with the competition. While Sony's platform remains incredibly stable, mature, and reliable, I've thus-far found the quad-tap option for volume control to be too cumbersome, unreliable, and impractical to use on a regular basis.
Minor improvement in battery life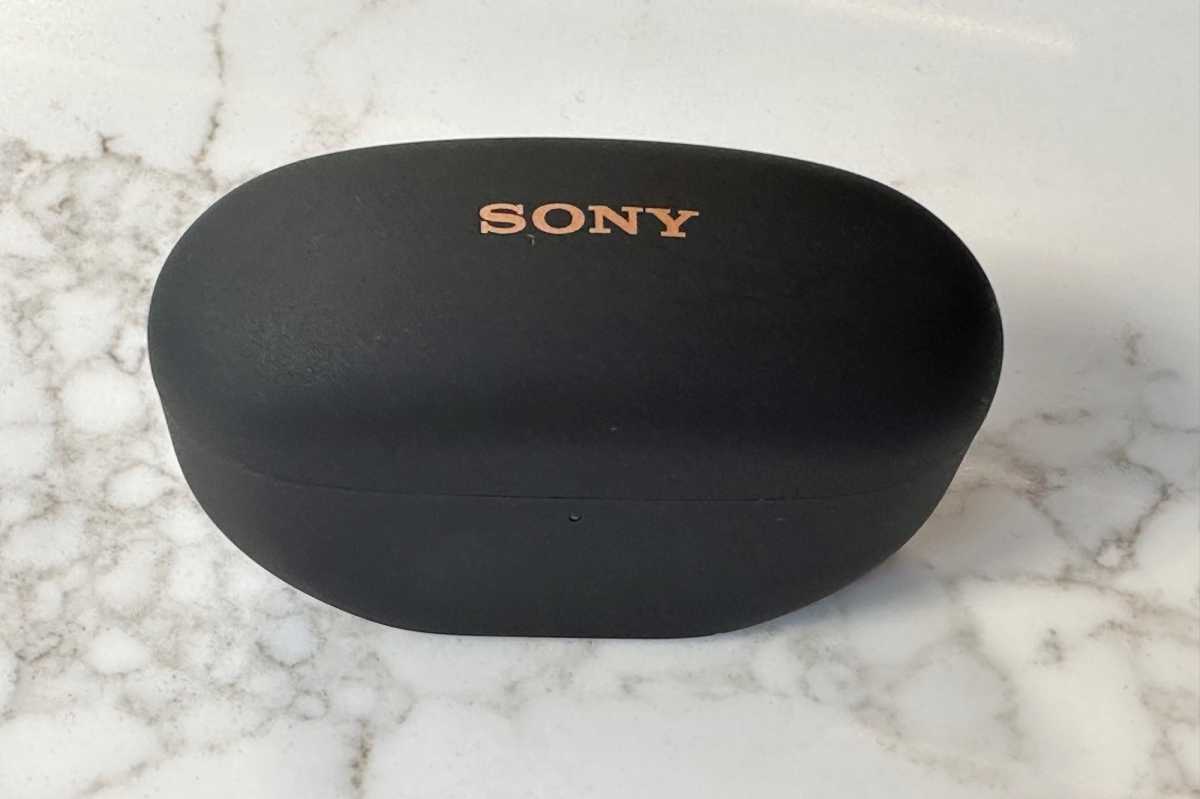 Theo Nicolakis/Foundry
Battery life was a strong part of the WF-1000XM4's feature set, and it remains relatively unchanged with the WF-1000XM5. You'll get 8 hours of playback with each earbud and 24-hours of playback with the charging case. The WF-1000XM5 does deliver a minor enhancement, in that a three-minute charge will deliver one hour of playback, compared to the WF-1000XM4's five-minute charge.
The WF-1000XM5 supports Qi wireless charging, but there is no wireless charger included. I did note some potential challenges with wireless charging that I'll outline in more detail in my full review.
Pre-orders start today
Sony's WF-1000XM5 is available for pre-order from Sony (in black and silver) and from authorized resellers, including Amazon and Best Buy for $299.
Stay tuned for our in-depth, hands-on review, coming soon.