MLS Season Pass, Apple's groundbreaking approach to live soccer streaming, is now available for the 2023 season. I am here to implore you not to pay full price for it.
The list price for MLS Season Pass is $15 per month or $99 for the entire season. Apple TV+ subscribers, however, get a discounted price of $13 per month or $79 for the season. The best way to save on on MLS Season Pass, then, is to temporarily sign up for Apple TV+ first. Even a free trial should be enough to secure a $20 discount on the full season of soccer, at which point you can safely cancel both services to avoid automatic billing at renewal time.
MLS season ticket holders shouldn't bother with any of this, as Season Pass is included for free with season tickets. (If you're a ticket holder, just keep an eye on your email for that season pass offer.)
For everyone else though, the Apple TV+ subscription loophole is a great way to get the service for less, and another example of finding craftier ways to save money on cord-cutting. Read on for detailed instructions.
What is MLS Season Pass?
MLS Season Pass is the result of a 10-year deal between Apple and Major League Soccer. It provides access to every MLS game, both in- and out-of-market, with no blackouts. That includes the MLS Cup Playoffs and the Leagues Cup.
The subscription also includes a five-hour live whiparound show for Wednesday and Saturday games, live streams of MLS Next and MLS Next Pro matches, and an assortment of behind-the-scenes TV series.
As I wrote last year, it's a refreshing change from how sports streaming usually works. Instead of spreading coverage across a slew of streaming services and cable channels, Apple and MLS are putting complete coverage in one place.
How to save $20 on MLS Season Pass
1.
Get your Apple TV+ trial
Assuming you don't already have an active Apple TV+ subscription, your first stop should be either Best Buy or Target. Both retailers offer three-month free trials for Apple TV+, available to new and returning subscribers alike. (Note that the latter requires a free Target Circle membership.)
If you've redeemed one of these offers before, consider having a family member sign up instead. You'll then be able to share both Apple TV+ and MLS Season Pass subscriptions by setting up Apple Family Sharing.
If you're ineligible for those three-month trials, you'll instead need to hand over $5 for a one-month Apple TV+ subscription, which still nets you a $15 savings. You can sign up through the TV app on your iOS device or on the Apple TV website.
2.
Cancel Apple TV+
Jared Newman / Foundry
No matter how you sign up for Apple TV+, make sure to immediately cancel after doing so:
Like most other streaming services, Apple TV+ gives you the full trial period even after you cancel, and yes, you can still sign up for MLS Season Pass at the discounted rate during the trial period. Only now, you won't get automatically billed at the end.
3.
Sign up for MLS Season Pass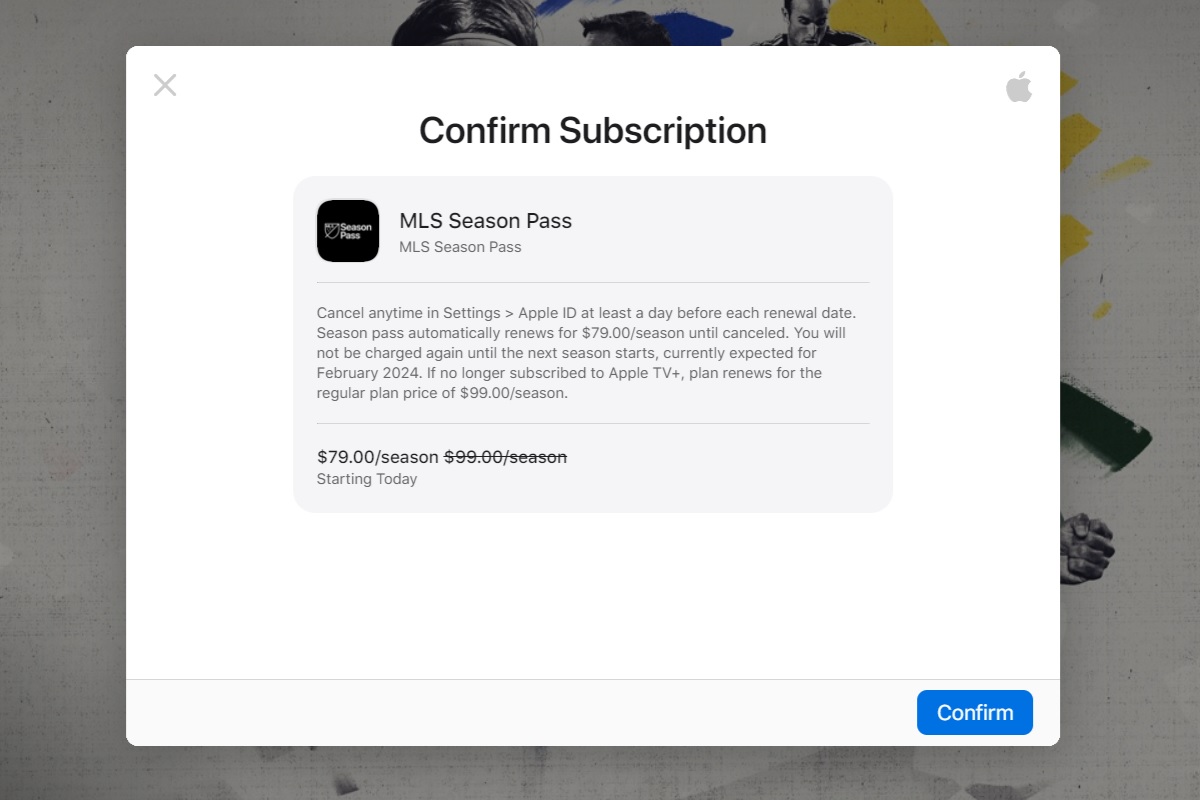 Jared Newman / Foundry
Now that you've activated Apple TV+, you'll be eligible for $20 off a full year of MLS Season Pass. To sign up, use this link, or click the "Subscribe on Apple TV" button on the MLS website.
At this point, you should see the discounted price of $79 for the full season of MLS Season Pass. If not, make sure you're signed into the same account you used for your Apple TV+ subscription.
Note that if you had a family member sign up for Apple TV+, they'll need to sign up for MLS Season Pass through their own account, which they can then share with you through Apple Family Sharing.
4.
Cancel MLS Season Pass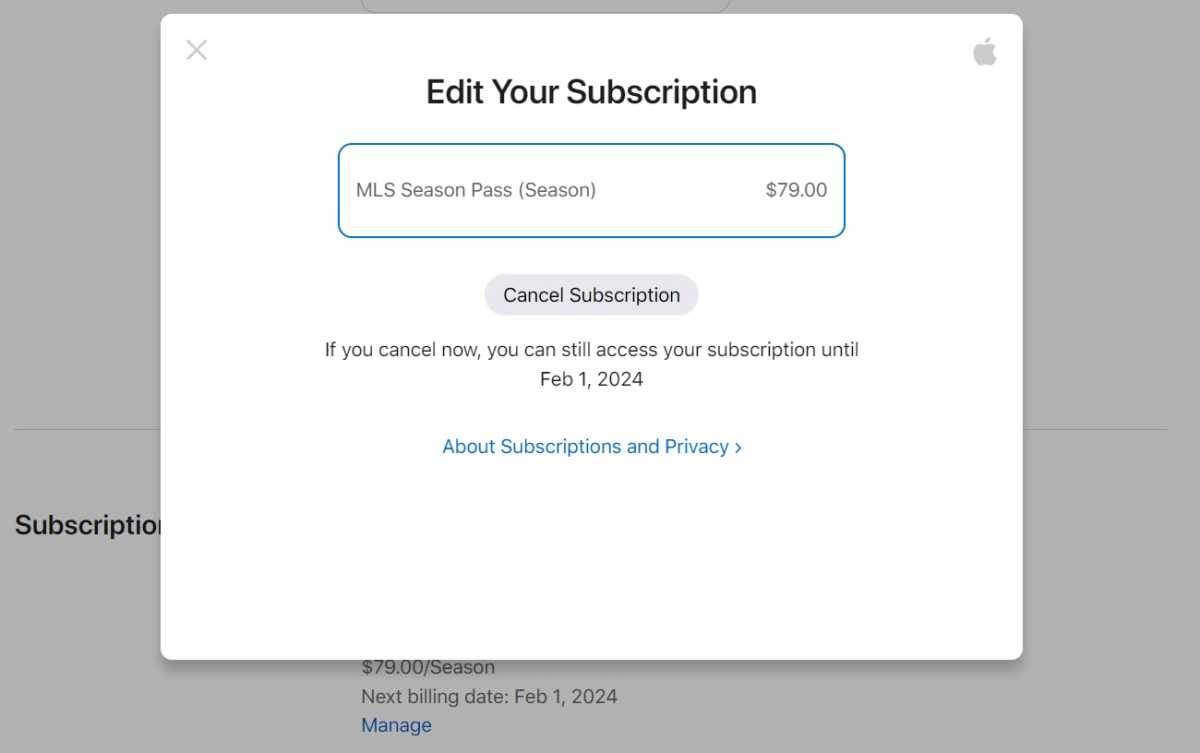 Jared Newman / Foundry
Remember my advice about immediate cancellation? This also applies to the full season of MLS Season Pass that you just paid for. Cancelling now will prevent you from being automatically billed for the service next year, and you'll still have access for the full 2023 season.
On iOS: Follow this link to your subscription page or head to iOS Settings > Your Name > Subscriptions > Apple TV+, then cancel the service.
On the web: Visit the Apple TV Settings page and scroll to the "Subscriptions" section at the bottom. Hit "Manage" under Apple TV+ to cancel.
At this point, you're ready to enjoy a year of good-ol' American soccer at a discounted rate, with no automatic billing at the end. With any luck, the same discount loophole will apply come 2024.
Sign up for Jared's Cord Cutter Weekly newsletter for more streaming TV savings strategies.