Check out this weeks technical news summary!
Samsung launches BTS special edition S20+ and Galaxy Buds+ for K-Pop fans.
Samsung has launched a BTS special edition devices and is hoping K-Pop fans support for these new phones and earbuds. This is an exclusive collaboration between BTS and Samsung to launch a purple-themed phone and earbuds.
Samsung has teamed up with the K-Pop superstars to release these devices featuring the band's logo and the purple hearts design that BTS is popular for use.
Galaxy Buds+ BTS Edition Galaxy Buds+ BTS Edition are available for pre-order from June 15th exclusively from Weverse. From June 19th, the Galaxy S20+ 5G BTS Edition, Galaxy S20+ BTS Edition, and Galaxy Buds+ BTS Edition will also be available for pre-order online from Samsung site. As part seventh anniversary of the BTS fan collective,the devices will become widely available from July 9th.
Tangi – A New Google Area 120 experiment has been launched.
Google Area 120 has come up with another interesting experiment, Tangi. This experiment by Google focuses on the social video sharing app. It enables us to create quick DIY videos. With this experiment, by the content of the users, it can help people learn new things. Similar to Pinterest, Tangi is where creative people can get new ideas and connect with other passionate people like them.
It is available on the Web, Android, and iOS platforms as well. It must be noted, you can't just start to write a post and can only view the content.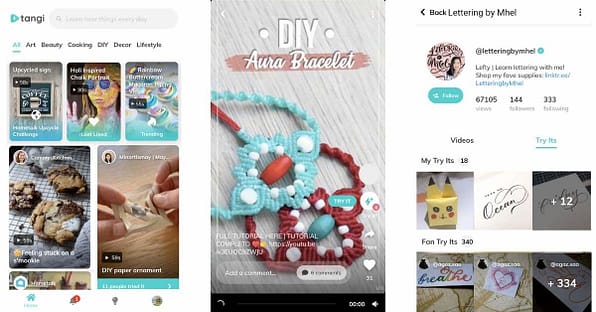 Facebook Portal now supports Messenger Rooms for Video calls.
Facebook users can host the group video calls with Messenger Room on Portal.
You can host up to 50 people, and users can join the call as per their convenience. Even the users who don't have a Facebook account can join video conferences.
In other Facebook Portal updates, support for new backgrounds has been added.
The new Voice Tweets feature is coming to Twitter, where voice recording will be added to your tweets.
Voice Tweets are similar to Tweeting with text. You can now record your own voice by opening the Tweet composer and tap the new icon with wavelengths. You will be taken to a new screen with your profile photo and the record button at the bottom.
Voice Tweets will appear on the timeline of the users who follow you along with other Tweets. You can listen to the voice tweet on the tap of the image.
By default, each voice Tweet captures up to 140 seconds of audio. Once you reach the time limit for a Tweet, a new voice Tweet starts automatically to create a thread. Currently, this feature is only available for iOS App only.
Mozilla launches Firefox VPN Beta for US users with free and subscription options.
As part of growing Mozilla products focused on privacy, it has launched a VPN service today. Mozilla's VPN is offered in a basic (and free) browser extension version. Here the users will use the extension for a VPN enabled safe browsing. This option is available immediately and can be joined by US Users.
The paid subscription-based services cost $4.99 a month. In these options, the protection is provided for the whole device. You will have to join a waitlist for this paid subscription service.