Realme has launched the Android TV with HDR 10 in India.
It has now basically entered into the most sought after segment other than Mobile phones likes its main competitor Xiaomi.
As per the specifications , Realme has launched two variants of 43 and 32 inches (81.28 cm). Interestingly it has not launched the 55-inch version yet. The 43-inch variant has a Full HD resolution of 1920×1080 pixels while the 32-inch Realme Smart TV has an HD-Ready resolution of 1366X768 pixels.
Realme Android TV variants are powered by MediaTek MSD6683 processor and has 8GB storage and 1GB RAM, the RAM seems to be very less. It has peak brightness of 400 nits, support for HDR up to the HDR10 standard.
The sound output of 24W  along with Dolby Audio support is provided with a good speaker system and Bluetooth 5.0 which can be used for both Audio and File transfer. In terms of ports, it has AV, Tuner, USB (2 ports), Lan, and SPDIF as an Audio port.
The Realme TV has a bezel-less design as per specs and runs on Android 9 with Official Play Store support. Popular apps like Netflix, YouTube and Amazon Prime Video are preinsalled and also find place in the remote.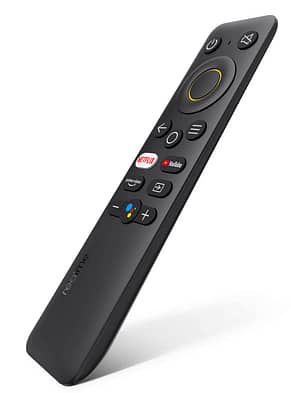 Realme TV are priced at a price of 12,999 ($172) for 32 inches (81.28 cm) and at price of 21,999 ($290) for 43 inches (109.22 cm) variant.  It will be available via a sale at Flipkart.com and realme.com from June 2 at 12 PM IST.
In other news, Google Meet has crossed 50 million downloads in just a couple of weeks after it was released free. It was part of the premium version of Google Suite; Google Meet has made very easy way of making video conferences/calls, and it seems people are liking it and using more. It is an excellent alternative for Zoom, which lately seems to have quite a few problems.