Plexamp was already an excellent app for music aficionados, but now it's even better with generative AI playlists.
Using the same large language models that power ChatGPT, the new "Sonic Sage" feature allows for extremely detailed and specific playlists inside of Plexamp, Plex's dedicated app for music playback. Some examples:
"90's grunge deep cuts, starting with Alone by Pearl Jam, no music by Mudhoney"
"Just the funkiest smooth jazz you can find, lots of Jeff Lorber, Mike Stern, and Spyro Gyra" (Sorry.)
"A playlist that alternates between thrash metal and classic show tunes"
Tapping into this most excellent playlist generator isn't exactly simple, though. To use it, you'll need a Plex Pass subscription, an OpenAI developer account, and either a Tidal subscription or your own personal music collection (or both). All of this will cost you more than a basic subscription to Spotify, and each playlist itself will cost about two tenths of a cent in API fees.
But that's the price you'll pay to punch up your music discovery and listening with state-of-the-art AI. Still on board? Here's how to get it all set up:
1.
Subscribe to Plex Pass
Jared Newman / Foundry
2.
Subscribe to Tidal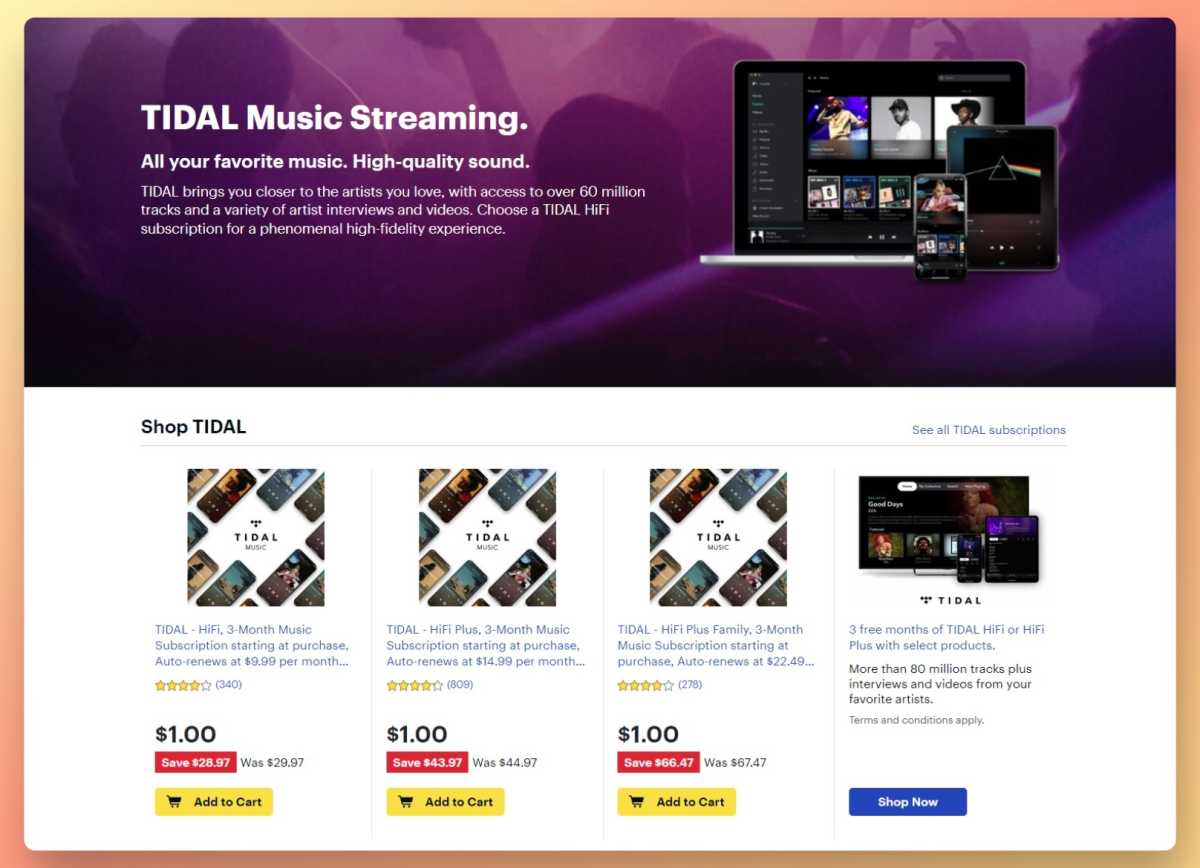 Jared Newman / Foundry
Although Plex's GPT playlist generator can work with music on a personal media server, you'll get the best results by plugging in a Tidal account. That way, the AI can draw from a much larger music catalog, including artists and songs you've never heard of.
If you're not a Tidal subscriber already, consider checking in on Best Buy, which routinely offers three-month trials for just $1. Otherwise, you can get a one-month trial directly through Tidal or through Plex. Don't miss our in-depth Tidal review.
3.
Connect Plexamp to Tidal
Jared Newman / Foundry
Once you have a Tidal subscription, you can link the account to Plex. Sign into Plex's website, then click your profile icon and select "Account Settings." Next to the Plex Pass icon, select "Other Services." Click the option to link your Tidal account.
Now, download Plexamp for iOS, Android, or your computer. Sign into the app, then choose either Tidal or your media server (if you have one) as your primary music library. You'll be able to use AI playlists either way.
4.
Set up your OpenAI developer account
Jared Newman / Foundry
To connect Plex with GPT-3.5, you must register as a developer with OpenAI, the company behind ChatGPT. You'll also need to set up a payment method and optionally set monthly spending limits to keep your playlist habit from causing bill shock. (Each playlist request will cost about $0.002, so 500 playlists will cost you roughly a buck.)
Head to the OpenAI Platform sign-up page, and create an account.
Click your profile icon and select "Manage Account."
In the Billing tab, select "Payment methods" and add a card to your account.
Also in the Billing tab, select "Usage limits." Under "Hard Limit," set the maximum amount you want to spend on playlists per month. You can also set a "Soft Limit," which sends an email alert when you reach it.
5.
Create an OpenAI API key
Jared Newman / Foundry
The last step is to get an API key from OpenAI and add it to the Plexamp app.
From your OpenAI Platform account page, select the "API Keys" tab, then click the "Create new secret key" button. Give the key a name, such as "Plex" or "Plexamp."
Now, you'll see a pop-up window with your full API key, which looks like a long string of letters and numbers. Copy the entire thing to your clipboard. Once you close this screen, you won't be able to view the API key again.
6.
Connect your OpenAI account to Plexamp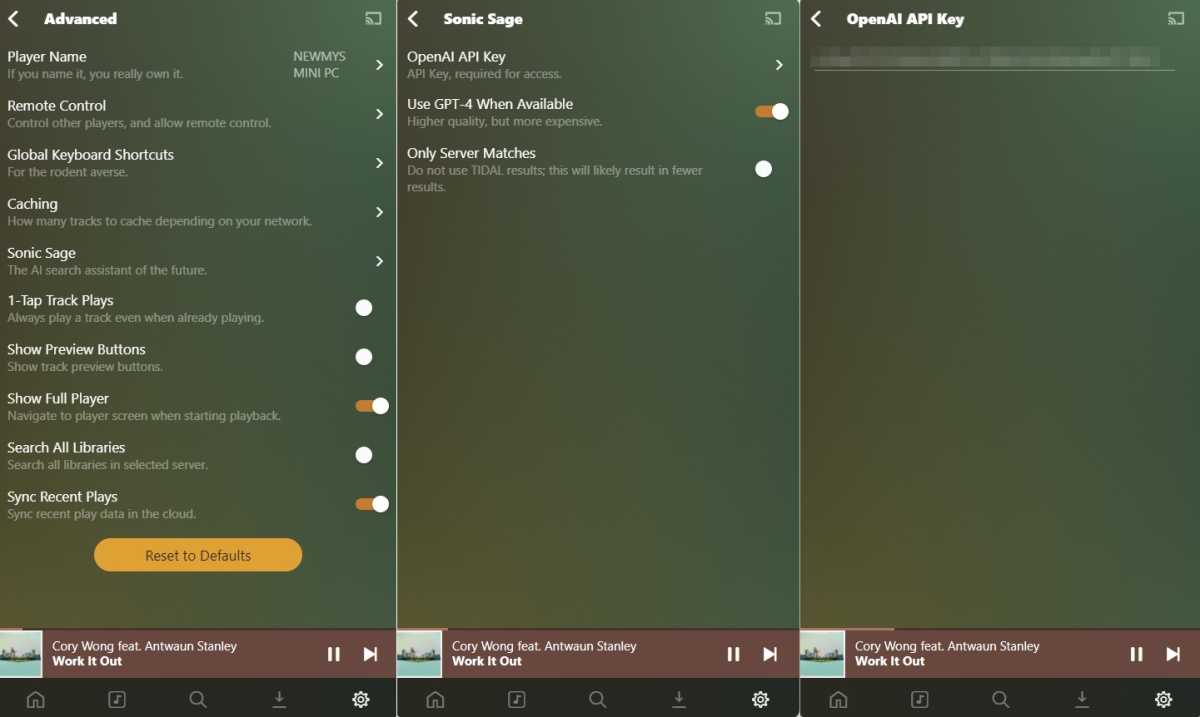 Jared Newman / Foundry
After copying the API key, open Plexamp, click the ⚙️ gear icon, then head to Advanced > Sonic Sage > OpenAI API Key. Paste in the key from your clipboard.
While you're here, take note of a couple extra options: "Use GPT-4" generally creates better playlists, but costs more per request. "Only Server Matches" limits playlists to just whatever's stored on your local music server.
7.
Start making playlists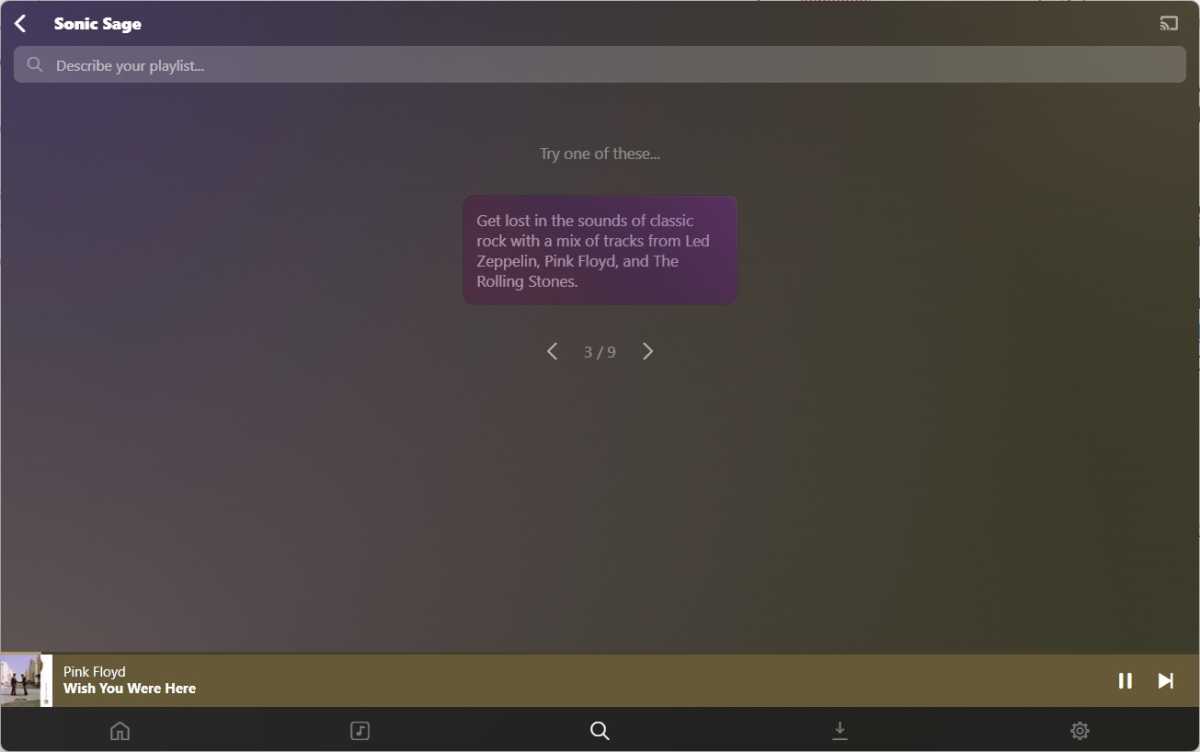 Jared Newman / Foundry
With all that setup out of the way, the fun begins. Click on Plexamp's 🔎 search tab, then select "Sonic Sage."
In the search box, type in any playlist you can imagine. Plex provides some sample prompts that you can click on, but don't be afraid to get specific. The AI will recognize things like "Don't play Stairway to Heaven," "Lots of Pink Floyd," or "early Genesis." You can also build sequential playlists with requests like "The evolution of Phish, from early years to their later stuff."
With a little practice, you can generate playlists that are far more nuanced than anything you'd get with the radio button in apps like Spotify and Apple Music.
Learn to make the most of technology with Jared's Advisorator newsletter.