Philips Hue's security camera news may have dominated its IFA presentation in Berlin, but the smart lighting brand didn't skimp on its bread and butter, announcing new smart bulbs as well as some long-awaited Matter news.
Among the new Hue lights are new configurations of its Festavia string lights, a low-power retrofit spotlight, and a modular track lighting system that had previously only been available overseas. (We've covered Philips Hue's security camera announcements in a separate story.)
This news story is part of TechHive's in-depth coverage of the best smart bulbs.
Philips Hue Matter update 
During an IFA pre-briefing, Philips Hue execs delivered some news about its long-delayed Matter update, revealing that the Matter patch is now set to arrive in September.
Hue had previously promised a Matter update for the Hue Bridge at the beginning of the year, but later announced that the update would take "a little more time than originally planned."
The Hue Bridge should install the Matter update automatically once it's released, and at that point, most Hue lights and accessories will be compatible with the burgeoning smart home standard.
Some exceptions include devices that are not yet part of the Matter specification, such as the Hue Play HDMI Sync Box and the new Hue Secure cameras.
Hue MR16 spotlight
Also at its IFA presentation, Hue showed off a new form factor for the brand: an MR16 spotlight.
The Hue MR16 has a standard two-pin connector and works with 12V low-voltage transformers, while its shape and size should allow it to fit in existing M16 fixtures, making it ideal for retrofit installations.
Available in both dimmable-white and color versions, the Hue MR16 is rated to emit up to 400 lumens of brightness.
Due to arrive in September, the White and Color Ambiance version of the M16 will cost $99.99 for a 2-pack; we've reached out to Philips Hue for pricing on the White Ambiance version.
Festavia string lights
Also on tap is the second generation of Hue's Festavia string lights, which made their debut a year ago.
The biggest change for the second-gen Festavia lights is that they're now weatherized for outdoor use. The original Festavia lights are indoor-only. (Hue didn't provide an IP rating for the new Festavia lights.)
The new Festavia lights also come in two new configurations: 100 LEDs on an 8-meter (~26 feet) cord ($119.99), and 500 LEDs along a 40-meter (~131 feet) cord ($359.99), in addition to the original 20-meter (~66 feeet) cord with 250 LEDs ($219.99). All the Festivia strings will be available in September.
Besides the new configurations, Hue is releasing three new lighting effects for its Festavia lights: Prism, Glisten, and Opal. All three of the new effects will work with both generations of the Festavia lights, while the Prism effect will work with any color-capable Hue light.
Philips Hue Perifo track lighting
Philips Hue is finally bringing its modular track-lighting system to the US.
Previously available overseas, the Perifo line includes a variety of rails and lights that can be installed in a track on a wall or ceiling, allowing you to get creative with your lighting layouts.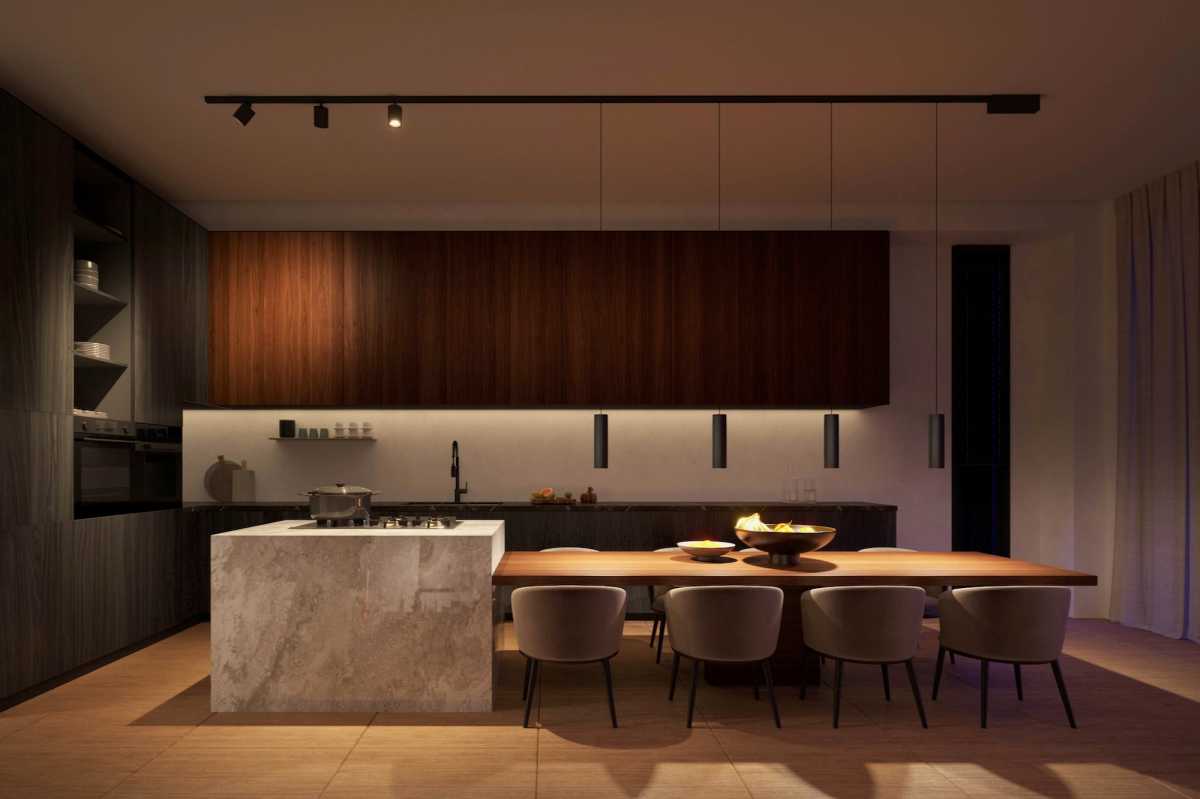 Philips Hue
Among the available Perifo fixtures are pendants, spotlights, light bars, and light tubes, each of which can be easily "clicked" to the track. 
Set for release in September, Perifo components can be purchased separately or in a kit, with prices ranging from $19.99 to $299.99. 
Philips Hue Centris
The Hue Centris is a "unique and innovative" ceiling light that combines a long diffused light with either a duo or quartet of spotlights.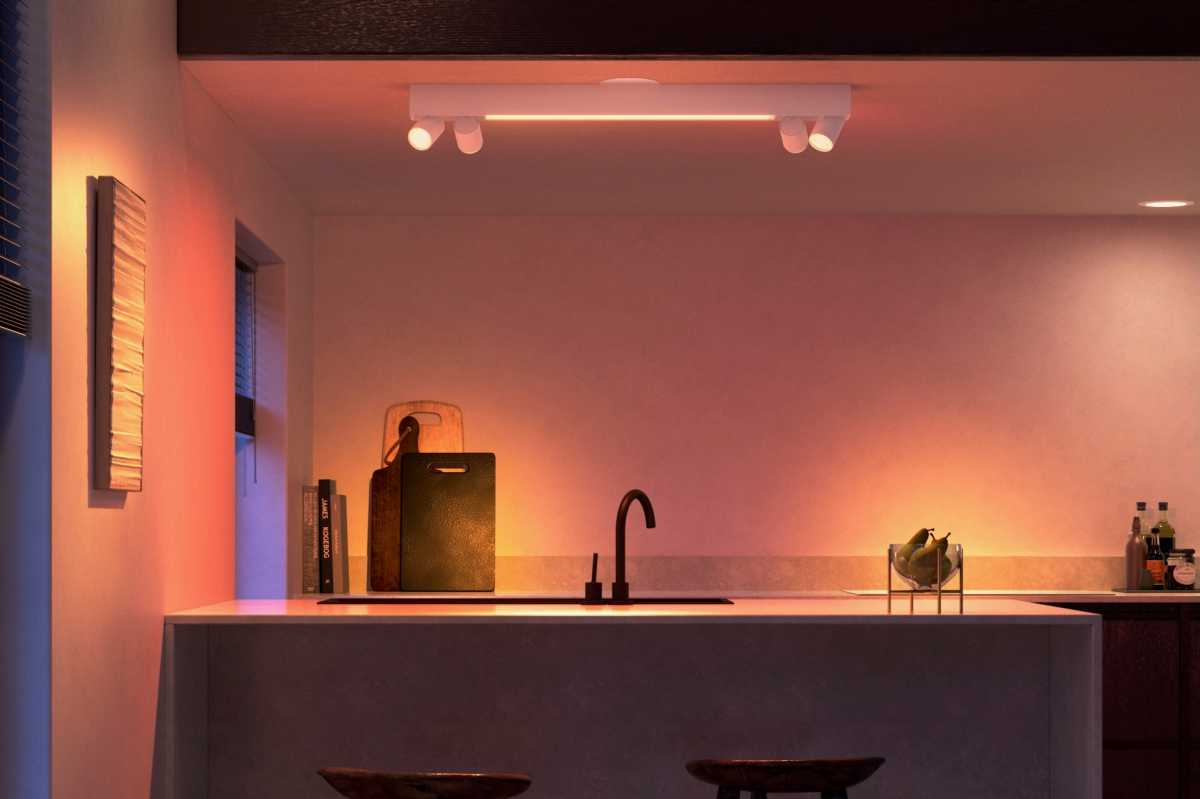 Philips Hue
The spotlights that flank the diffused light can be angled up to 350 degrees, and each of the lights can be controlled individually from the Hue app. 
Look for the white version of the Hue Centris to arrive in September, while a black model is due in the fall. The two-spotlight Centris will retail for $309.99, while the 4-spotlight variety will cost $489.99.