Remember the rumor last summer that Philips Hue and SmartThings were teaming up on an integration that would sync your Hue lights with Samsung TVs?
Well, the collaboration between Signify-owned Philips Hue and SmartThings turned out to be something else, yet here we are at CES, with a new Hue app that does, indeed, sync the images on a Samsung TV with your Hue lights. Like most things Hue, however, the new app isn't cheap.
Available on the Samsung TV app store starting tomorrow, the Philips Hue Sync TV app works with 2022 or newer Samsung TVs in the QR60 or better range, and it syncs your Hue lights with any content on your Samsung TV screen–and yes, that includes smart TV apps, with Hue specifically calling out Netflix and Disney+.
A screenshot from Hue reveals that the app offers both "video" and "game" modes, and there are sliders for both "intensity" and "brightness," similar to the settings on the Spotify music integration in the main Hue app.
Once you have the app installed on your Samsung TV, you'll need to create an Entertainment area in the Hue app, where you can arrange your available Hue lights in a 3D representation of the room.
The Philips Hue Sync TV app works with both 8K and 4K images, as well as HDR10+. Hue doesn't tick off Dolby Vision as a supported HDR format, but that's no surprise, given that Samsung TVs across the board don't do Dolby Vision.
So, how much does the Philips Hue Sync TV app cost? Brace yourselves: a whopping $129.99. That's about $120 less than the Philips Hue Play HDMI Sync Box, a piece of hardware that will sync your Hue lights with any HDMI-equipped TV, but still, that's a hefty price tag for a smart TV app.
Also at CES, Philips Hue unveiled a color version of its PAR38 floodlight. 
Available starting March 14, the Hue White and Color Ambiance sits alongside the existing dimmable-only Hue White PAR38, and it's designed to operate in backyards, walkways, and other outdoor situations.
The Hue White and Color Ambiance PAR38 will retail for $79.99, or $149.99 for a two-pack.
Finally, Philips Hue has announced a new version of its Hue Tap dial switch with a circular "mini" wall mount.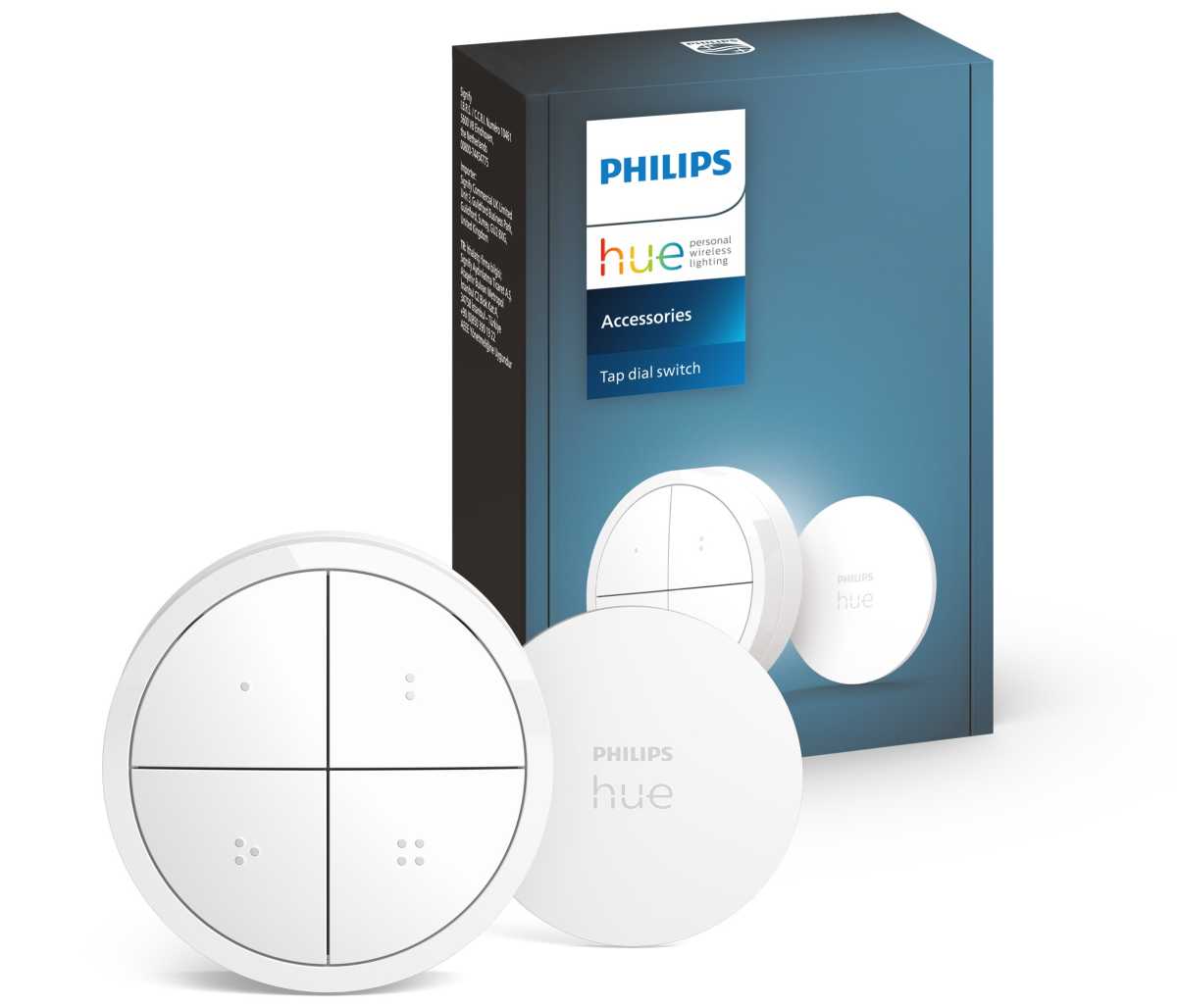 Signify
While the Hue Tap dial switch originally shipped with a larger rectangular wall plate, the new mini plate lets you mount the Tap dial switch on other surfaces, such as on a cabinet or a refrigerator door.
Look for the Philips Hue Tap dial switch with mini mount to arrive March 14 for $49.99.