The new Voice Tweets feature is coming to Twitter, where voice recording will be added to your tweets.
Twitter started its journey with 140 characters limit. As it became more popular and more common across the world as a big social media platform, the character limit became a bottleneck. It later increased it to 280 characters. Apparently, as we all know even 280 characters are not enough! Hello Voice Tweets!
What are Voice Tweets?
Voice Tweets are similar to Tweeting with text. You can now record your own voice by opening the Tweet composer and tap the new icon with wavelengths. You will be taken to a new screen with your profile photo and the record button at the bottom.
Voice Tweets will appear on the timeline of the users who follow you along with other Tweets. You can listen to the voice tweet on the tap of the image. In iOS, the playback will start in a new window docked at the bottom of your timeline and you can listen as you scroll. Voice recordings will be played on the background and users to do other things on their phone.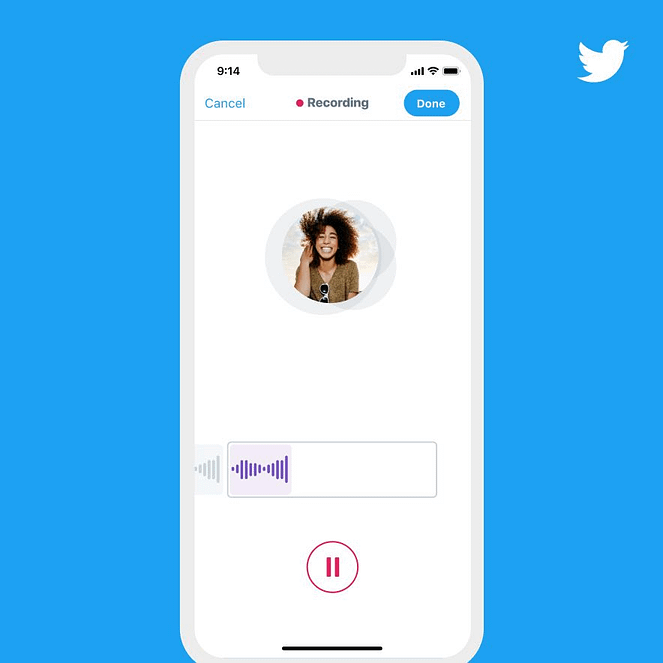 Time Limit
By default, each voice Tweet captures up to 140 seconds of audio. Once you reach the time limit for a Tweet, a new voice Tweet starts automatically to create a thread. After you're done with recording, tap the Done button to go back to the composer screen to Tweet.
Availability
Its iOS is only for now, and no details are provided by the Web or Android availability.
As per Twitter's blog, "Creating voice Tweets will be available to a limited group of people on Twitter for iOS to start but in the coming weeks everyone on iOS should be able to Tweet with their voice. Everyone will be able to see (hear) them and reply."
Facebook Portal now supports Messenger Rooms for Video calls. You can host up to 50 people, and users can join the call as per their convenience. It has also enhanced "Hey Portal" functionality to support the commands in British English and the ability to start WhatsApp calls.