Nanoleaf execs have long teased the idea of smart lights that are "actually smart" rather than just "a glorified remote control," and at CES in Las Vegas this week, the company is finally putting its "intelligent lighting" cards on the table.
Nanoleaf is calling its new Sense+ Controls line the "world's first ever hands-free smart lighting experience" for homes, and it's showing off a range of devices that will work with its new Matter-enabled switches and sensors, including a series of modular ceiling light panels and new "Essentials" bulbs and light strips.
Nanoleaf is also teeing up a screen-mirroring kit for TVs that's set to compete with Philips Hue's Play Sync HDMI Box and Govee's Envisual TV backlights.
Slated to launch in the third quarter of 2023, Nanoleaf's new Sense+ Controls line consists of three products, including two smart light switches–one wired, one wireless–and a wireless "learning" bridge that doubles as a night light.
Nanoleaf
All three devices run on Thread, which is one of the pillars of the new Matter smart home standard, while the Nala Learning Bridge, which packs a color-changing night light and plugs into a standard wall outlet, acts as a Thread border router that connects other Matter devices to the internet.
While there have certainly been other smart switches with onboard motion and ambient light sensors, Nanoleaf says that its new "Automations Learning Assistant"–a.k.a. Nala–will be the big differentiator.
According to Nanoleaf, Nala will monitor your habits and create "personalized" and "predictive" automations that will deliver "a truly intelligent and hands-free experience."
Besides living in the night light-style Nala Learning Bridge, Nala will also work in any existing Nanoleaf products that work as Thread border routers, including Nanoleaf's Shapes, Elements, and Lines lights (and all three will be getting Matter updates, Nanoleaf now confirms), and a new product, Nanoleaf Skylight. 
Coming in the same Q3 2023 timeframe as the Sense+ Controls line, Skylight is a new set of modular light panels designed for mounting on the ceiling.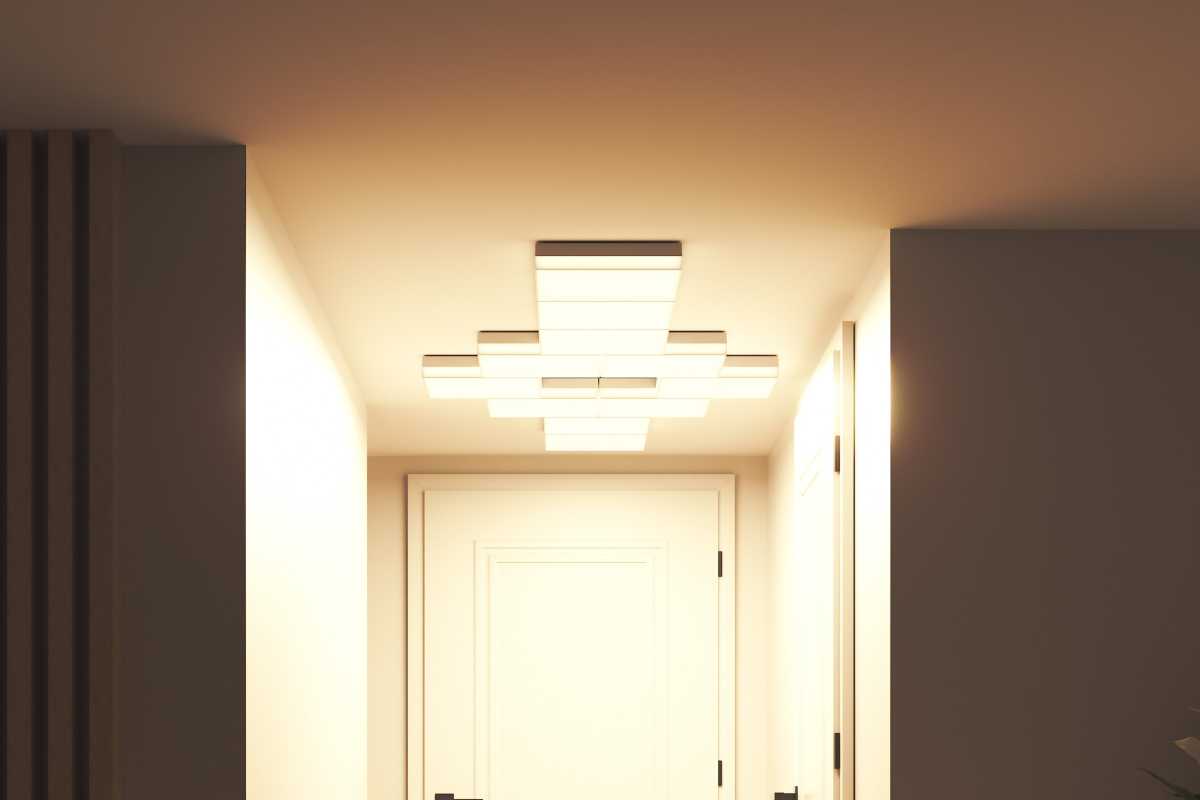 Nanoleaf
The Skylight panels will be square-shaped, similar to (but apparently larger than) Nanoleaf's older Canvas light squares. The light panels in the newer Shapes and Elements lines are hexagonal and triangular.
As with Nanoleaf's other light panels, the Skylight panels will be able to glow in up to 16 million colors and in a range of white-color temperatures. You'll also be able to incorporate Skylight in lighting scenes and routines, and it will work with Nanoleaf's Rhythm Music Visualizer and Screen Mirror features.
Besides its core features, the Skylight will also pack Sense+ sensors, allowing it to detect both motion and ambient light to help Nala create its intelligent automations.
Powered by in-ceiling wiring, the Skylight panels come with detachable mounting plates, similar to other Nanoleaf light panels. But while other Nanoleaf products offer peel-and-stick mounting as well as screw holes, the Skylight mounting plates will only have screw holes.
Next up: Nanoleaf 4D, a package that combines a light strip with a camera to mirror the colors on your TV screen.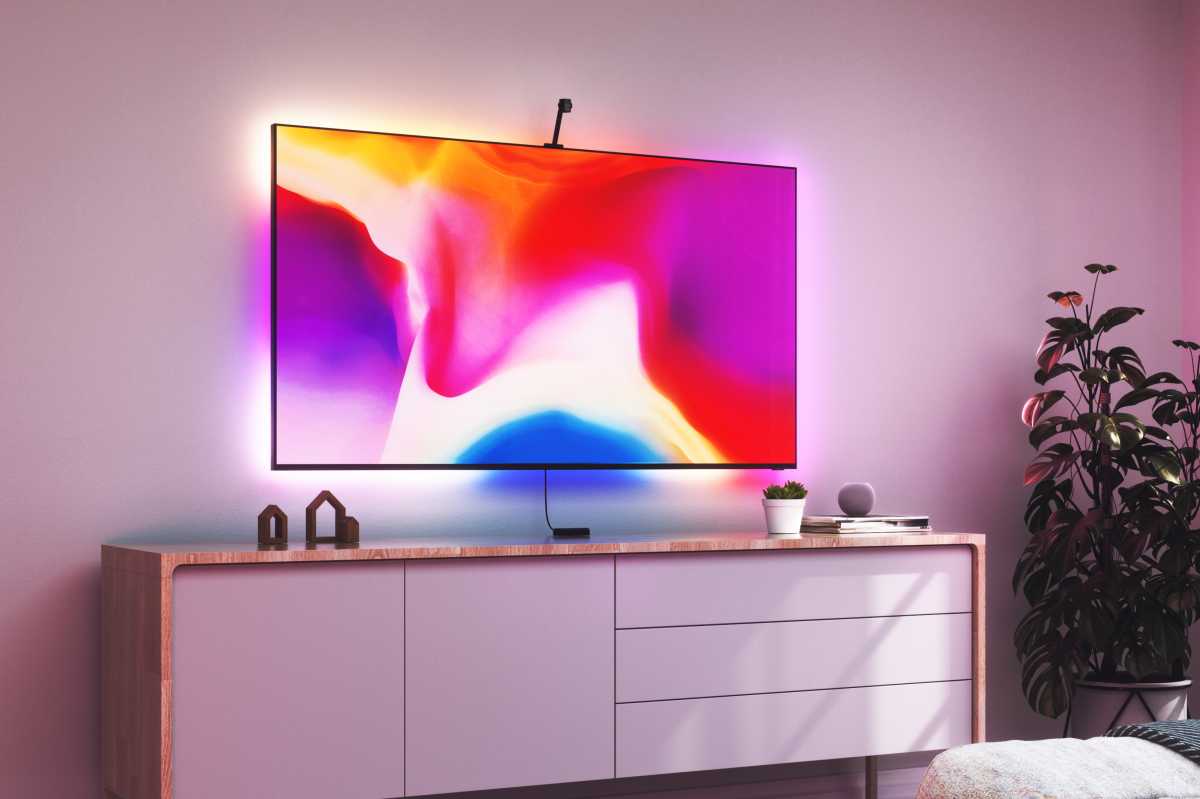 Nanoleaf
Similar to Govee's Envisual TV backlight, the Nanoleaf 4D has a camera that mounts on the top or bottom of your TV screen, while the light strip attaches to the back of the TV with adhesive and snap-on brackets.
With help from the camera, the Nanoleaf 4D uses the company's existing Screen Mirror feature to sync the colors on your screen with the light strip, along with any other Nanoleaf lights in the room.
While Nanoleaf 4D also competes with the Philips Hue Play HDMI Sync Box, the latter uses signals from your TV's HDMI outputs rather than a camera to sync your Hue lights with your TV.
Expect the Nanoleaf 4D to arrive in the second quarter of 2023 in two configurations: one for 55- to 65-inch TVs, and another for 70- to 80-inch screens.
Finally, Nanoleaf confirmed the arrival of Matter-enabled versions of its Essentials lights, including the Essential A19 and light strip.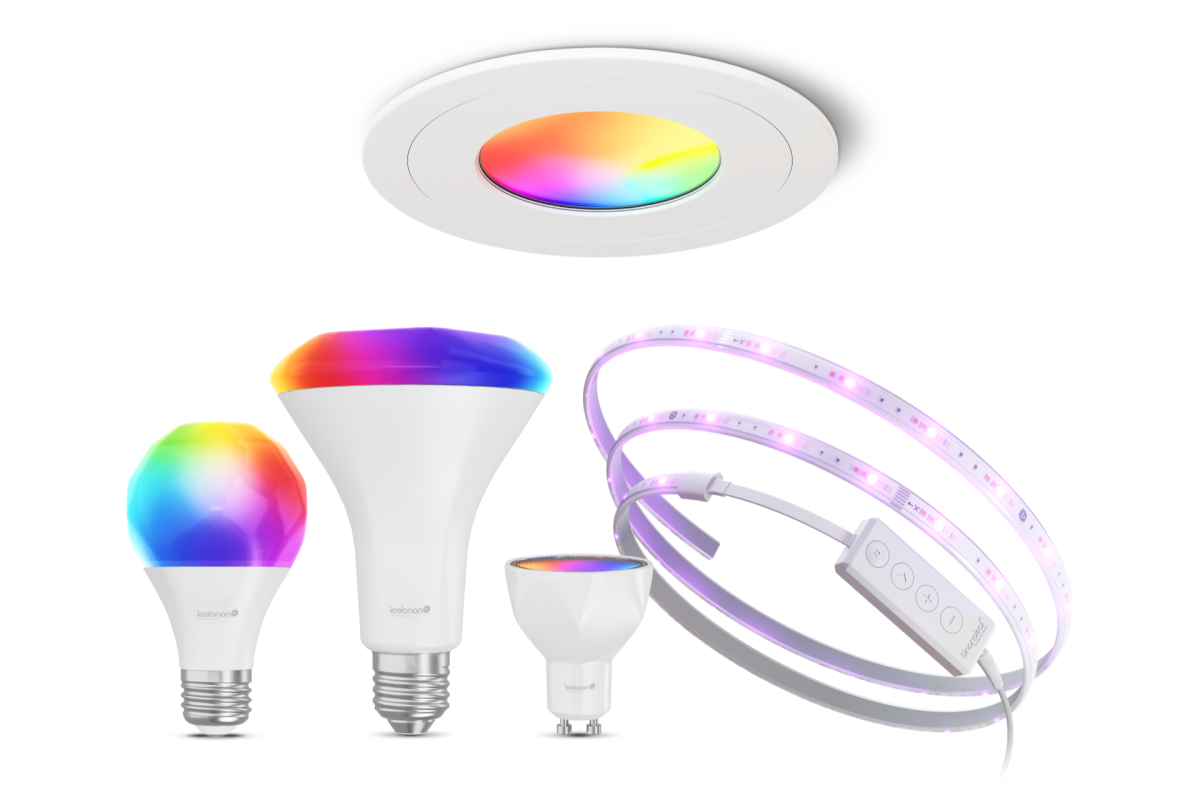 Nanoleaf
Joining the Essentials club will be a trio of new lights: a GU10 downlight, a BR30 floodlight, and a recessed downlight. 
The new Essentials A19 and light strip will arrived in the first quarter of 2023, Nanoleaf said; the company didn't announce a launch window for the other new lights.
While Nanoleaf's existing Elements, Shapes, Lines, and Canvas lights will be getting Matter updates, the original Essentials A19 and light strip won't be Matter-enabled due to hardware limitations, Nanoleaf said.