In context: When a company is particularly well-known for one product category, it's often challenging to get people to better understand the company's broader strategy and perspective. Such is the case with Lenovo, a company that is primarily known for its PC business. In fact, Lenovo is the number one selling PC brand in the world and has been every quarter for more than the last five years.
What many people may not realize, however, is that Lenovo also has a big data center and storage business. The company is now the third largest server vendor worldwide, and is a relevant player in smartphones (they purchased Motorola back in 2014) and has a growing services business as well.
Part of the problem is historical. Lenovo started in the PC business nearly 40 years ago, gaining notoriety with its purchase of the IBM ThinkPad business in 2005. The data center business, on the other hand, is only 9 years old, not coincidentally, it was kickstarted when Lenovo bought IBM's server and storage business.
Until recently, Lenovo treated its various businesses separately. Then about a year ago, its founder and CEO Yang Yuanqing (commonly referred to as YY) pushed the launch of a "One Lenovo" story. The idea was not only to highlight the non-PC parts of the business, but to enable collaboration across all the different groups.
Lenovo hosted Tech World '23 recently, where this effort started to become palpable. From its new range of edge-focused devices that leverage tech from both PCs and servers to its ThinkPhone branded smartphone, to software that better links its phones with its PCs, Lenovo is looking for ways to leverage its technology and personnel assets as effectively as possible.
Lenovo also introduced a range of products and concepts, unveiling the "AI for All" strategy that integrates elements from smartphone and PC client devices, through servers, other data center hardware and even services in a strategy the company cleverly call "from pocket to cloud."
Lenovo announced that it plans to invest $1 billion in AI Innovation across the company's various product and services groups. One area of particular focus is called Enterprise AI Twins – a type of future application that can leverage the knowledge of the given company's organizations and policies to help individuals within that organization make smarter decisions about everything from travel plans to supply chains and more.
From a PC perspective, Lenovo talked about the concept of personal foundation models that can be combined with public and company-driven private models to help build something they referred to as a "personal twin." On the mobile side, the Motorola division showed a new type of foldable smartphone prototype with a bendable display that can morph into a variety of different form factors.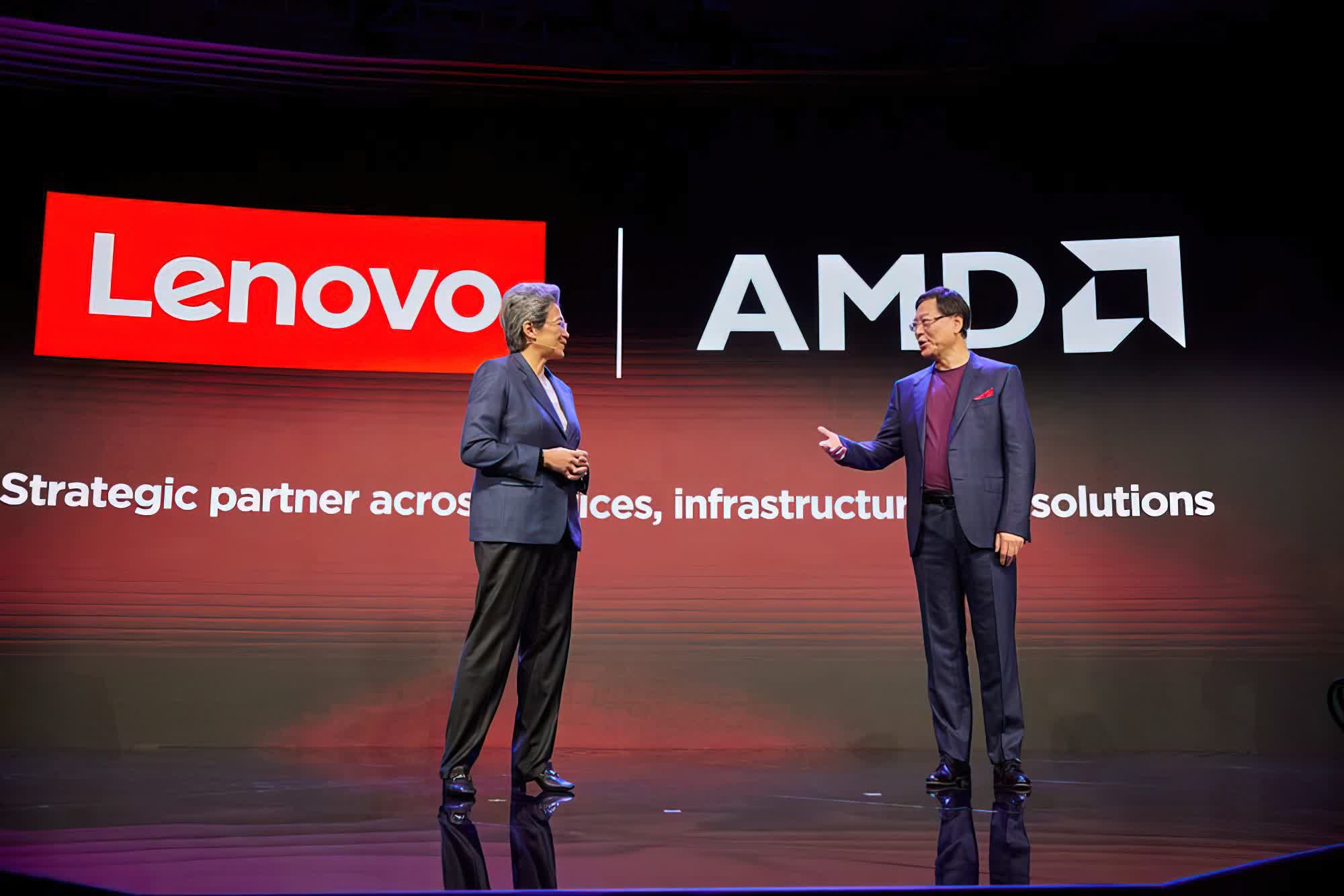 For enterprises, some of the biggest news was about the expansion of partnerships with chip giants AMD and Nvidia. AMD's CEO Lisa Su talked about her company's work to bring its Epyc CPUs and AI-optimized Instinct GPUs into upcoming Lenovo data center products.
And, following a tactic that's becoming increasingly common among tech companies, Lenovo also had Nvidia CEO Jensen Huang discuss a new partnership between them.
The partnership brings together Nvidia GPUs with specially designed and configured Lenovo server hardware, as well as the bundling of Nvidia's AI-focused software solutions, including its NeMo framework, Nvidia AI Enterprise, and Omniverse digital twin platform.
The idea is to allow companies to purchase systems with all the hardware and software elements they need to be able to build or customize their own foundation models and then run them on those devices.
In addition, Lenovo is offering a new AI Professional Services Practice to help organizations make the most of these generative AI-capable systems. The goal is to help companies create hybrid AI models that can leverage their own data centers as well as the cloud. Given how much education and training needs to be done around real-world GenAI applications, it's important for Lenovo to do this.
Lenovo has painted a much broader picture of its strategy and vision, making it clear that they have moved beyond just being a big PC vendor. Some of its own software concepts still need refining and clear value distinction from competitive offerings by other tech vendors, but it is good to see Lenovo moving in the direction of a more unified technology company.
Its long history in the industry along with its strong manufacturing base gives Lenovo some unique advantages that should be interesting to watch as it continues its evolution.
Bob O'Donnell is the founder and chief analyst of TECHnalysis Research, LLC a technology consulting firm that provides strategic consulting and market research services to the technology industry and professional financial community. You can follow him on Twitter @bobodtech