Klipsch has announced the Music City series of battery-powered Bluetooth speakers, named after American cities famous for their music scenes: Austin, Detroit, and Nashville.
The 14-ounce Klipsch Austin ($99) is the smallest of the three, featuring a 1.5-inch driver and dual passive radiators in cube-like 4.1 x 4.1 x 1.7-inch (HxWxD) enclosure. Klipsch describes the ultra-portable Austin as having been "inspired by the passion and artistry that makes its namesake the live music capital of the world and designed to take the concert anywhere you go." The speaker promises 12 hours of battery life.
This news is part of TechHive's in-depth reporting on the best Bluetooth speakers.
Klipsch
The larger Klipsch Nashville ($149) offers twin 2.25-inch drivers and dual passive radiators housed in a wider, squatter 3.1 x 7 x 3.2-inch box. Klipsch says this speaker's dual opposing drivers will deliver a 360-degree soundstage that will immerse listeners "in the soulful melodies and rich musical heritage of Music City USA." The two larger speakers are apparently stereo players. The battery in the 2.4-pound Nashville promises up to 24 hours of battery life.
The biggest of the three speakers in the new series, the 4.1 x 13.1 x 4.8-inch Klipsch Detroit is outfitted with dual 3-inch drivers and 1-inch tweeters, plus four force-cancelling passive radiators. The $299 Detroit is the least portable of the new lineup, weighing in at 5.5 pounds, although it does have a handle like the Austin (the Nashville, which is the only speaker to promise 360-degree audio, does not). In spite of the number of drivers, Klipsch promises the Detroit will also deliver 24 hours of battery life.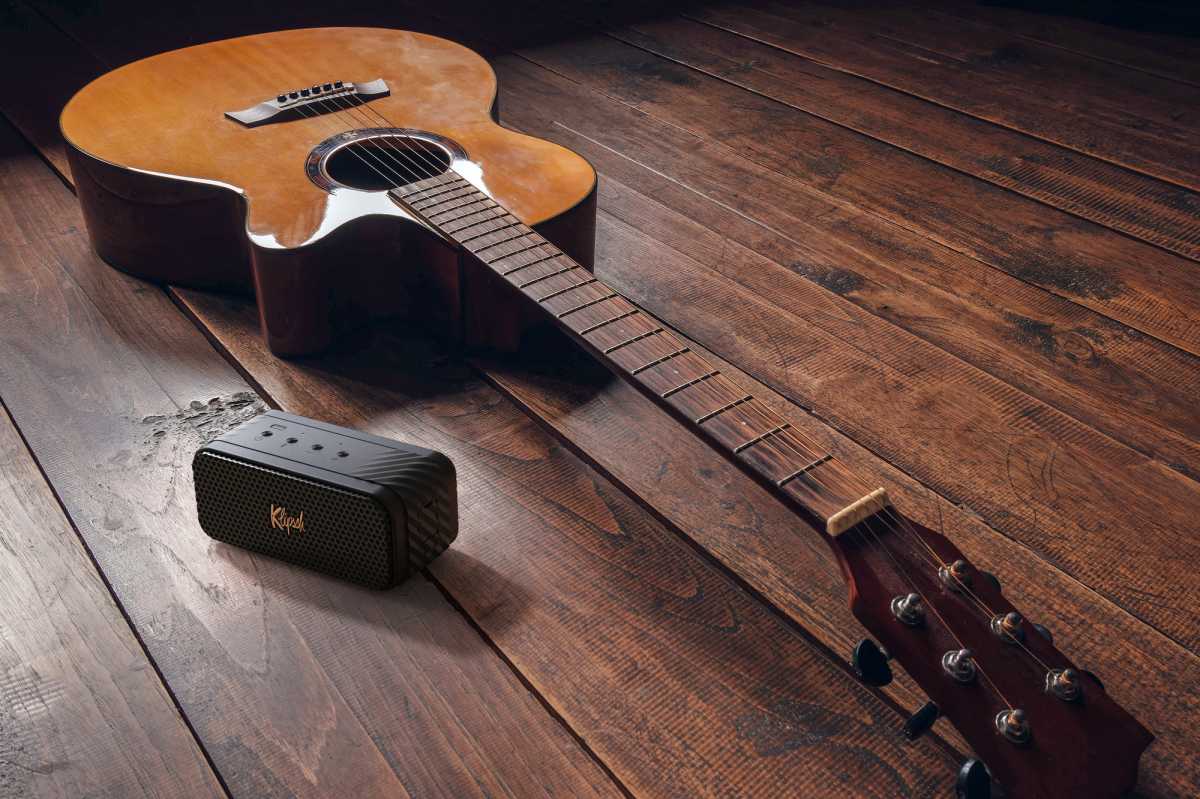 Klipsch
All three speakers are outfitted with Bluetooth 5.3 radios and can be controlled with the Klipsch Connect app, which offers EQ controls and other personalized settings. The series also supports the Klipsch Broadcast Mode that allows the speakers to be grouped together with up to 10 other Bluetooth-capable Klipsch speakers, including the One Plus and the Three Plus tabletop speakers that came to market about this time in 2022.
Being portable speakers, Klipsch has assigned all three of its new Music City-series weatherization ratings of IP67, meaning they're impervious to dust ingress and that they can withstand immersion in up to one meter of water for 30 minutes.
Klipsch tells us the Austin and Nashville are available for pre-order now; the top-of-the-line Detroit will arrive sometime in 2024.