Re-asserting its status as a high-value audio brand, JBL is making quite the noise with CES 2023 product introductions promising top-tier performance, novel features, attractive pricing, and a dose of global responsibility.
Standouts include eco-friendly portable speakers, full application of Dolby Atmos and voice-clarifying tech in JBL soundbars, more resistant waterproofing for ruggedized headphones and portable speakers, plus PS- and Xbox-console-customized gaming headphones and the first true wireless buds to feature a useful touch-screen-fronted charging case.
JBL's new portable Bluetooth speakers
The greening of JBL's Eco-Edition Portfolio grows with two new portable Bluetooth speakers—the JBL Go 3 Eco and JBL Clip 4 Eco, launching (when better?) on Earth Day: April 22. Available in your choice of Forest Green, Ocean Blue, and Cloud White colorways, both the JBL Clip 4 Eco ($79.95) and the smaller Go 3 Eco ($49.95) use 90 percent post-consumer-recycled) plastic—about eight water bottles worth—for their enclosure construction, plus 100 percent recycled fabric in the speaker's grills and the Go 3's rope handle. Both Ecos are dunk-ready with IP67 weatherization ratings (dust and water ingress), outfitted with Bluetooth 5.1 radios, and offer 10 hours play on the Clip 4; the Go 3 plays for five hours.
Similar waterproof functionality, plus louder play and extra entertainment ability is bundled in the Pulse 5 (pictured at the top of the page), a take-me-places (4.2 x 8.5 x 5.2 inches, 3.23 pounds) portable speaker fitted with a 360-degree LED light show to jazz up the party. Pulse 5 holds a 12-hour charge, is pairable with multiple speakers, and can be alternately fed content (in the SBC-codec) from two different sources via Bluetooth streaming at the new 5.3 level. (More on that below.)  Priced at $249.95, the Pulse 5 launches March.
JBL soundbars at CES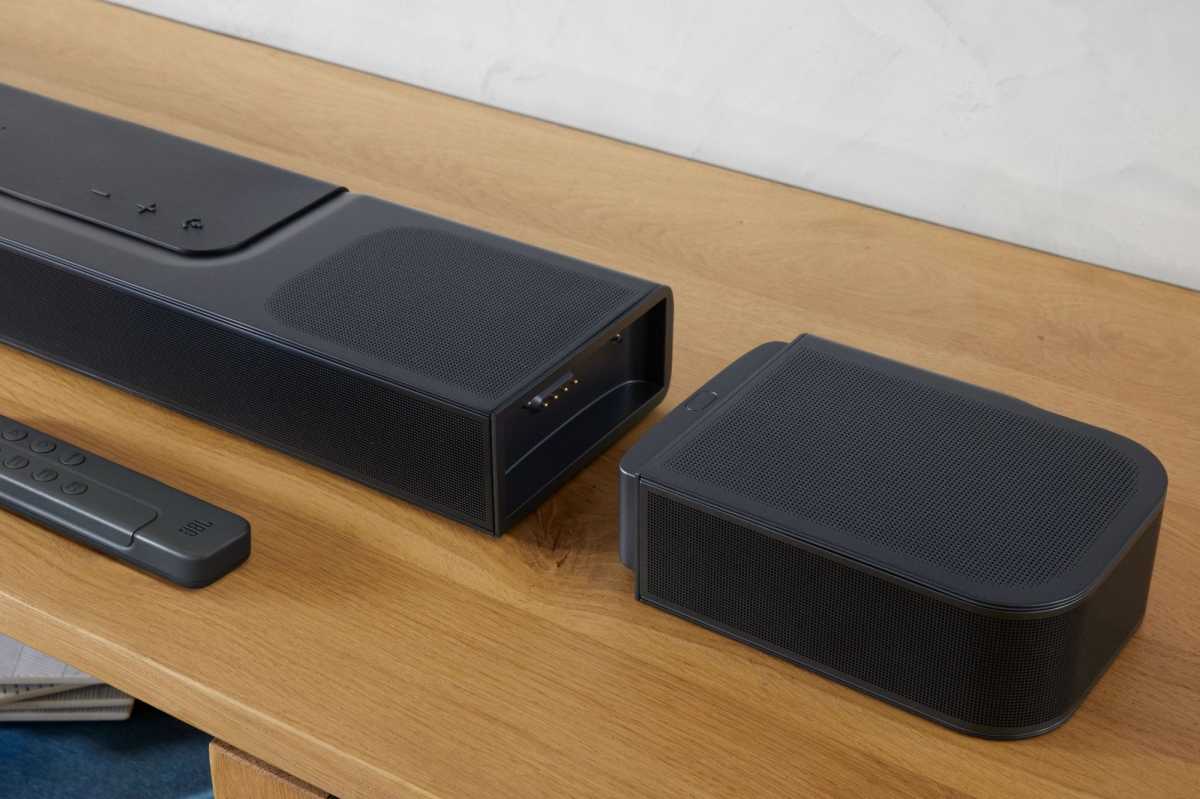 JBL
Ripe for home theater cranking is an entirely new, five-model lineup of soundbars landing on February 19. Each model in the JBL Bar line deliver some flavor of Dolby Atmos virtually created using JBL's Harman Multibeam tech. There are two smaller models in this line: The Bar 300 ($399.95) and the Bar 500 ($599.95). Stepping up to the Bar 700 ($899.95), the 7.1.4-channel Bar 1000 ($1,199.95), and the 11.1.4-channel Bar 1300X ($1,699.95) gets you discrete surround speakers and DTS:X support as well). Those three larger models also include detachable, battery-powered speakers that dock to the main bar.
The detachable speakers on the 1300X also can be uniquely repurposed as standalone Bluetooth speakers. JBL's soundbars all play nicely with Bluetooth sources, can access more than 300 online music streaming services through AirPlay 2, Alexa MRM (Multi-Room Music), and Chromecast built-in, and connect directly (via the JBL app) to web-based music services Spotify Connect, Apple Music, YouTube Music, and (coming soon via a software update) Tidal Connect.
JBL headphones and earbuds
JBL
On the headphone/earbud front, JBL is now attaching distinctive names rather than model numbers to its true wireless in-ear phones. There's the dot-style JBL Tune Buds ($49.95), closed stick buds answering to Tune Beam ($49.95), and a line of open stick buds (that sit more lightly in the ears, like Apple's AirPods) called the JBL Tune Flex ($69.95). Arriving in February, these all offer active noise cancelling and "smart ambient" adjustments to blend in outside sound.
There will be a trade-off or two with the looser, comfier-fitting Flex: Larger drivers–12mm, compared to 10- or 6mm on its kin–will crank up their volume, but runtime is diminished; The Flex deliver eight hours of play per charge, while its sealed-ear cousins offer 12 hours. The recharging capacity of the Flex case is also shortened: to 24 hours compared with 36 in the other two models with noise-cancelling off. To be more, um, flexible than other open sticks, the JBL Flex offer a second way to listen. The set is delivered with optional soft tips (stored in their own hard plastic case) that you can affix to the buds for better ear sealing, ambient noise reduction, and deeper bass.
Also of note: The Tune Buds and Tune Beam (but not Tune Flex) pack step-up Bluetooth 5.3, which supports a new platform called LE Audio. Users will most likely take advantage of that standard's content-sharing Multipoint Connection skill: one Bluetooth 5.3-adept source can beam a signal simultaneously to multiple BT 5.3 headphone-wearing listeners. LE Audio also will enable more accurately timed, discretely separated delivery of left and right channels to your stereo headphones.
JBL
Really jumping out from the pack is the first true wireless headphone with a "smart" charging case: The high-end JBL Tour Pro 2 buds ($249.95, spring release) that were previewed at the IFA show in Berlin. The front of its charging case has a 1.45-inch LED touchscreen so you can manage music playback, answer incoming calls, and scan messages and social media alerts. They also deliver active noise cancellation, immersive spatial sound, and a Bluetooth 5.3 upgrade (when ready).
Also coming this spring: The similarly featured over-the-ear JBL Tour ONE M headphones ($299.95), which a JBL rep promised will give Sony's and Bose's best over-ear headphones a run for it in musicality, noise cancelling, and added features. This model supports the SPC and AAC codecs as well as the new Bluetooth LE Audio platform's better-sounding and more efficiently transmitted LC3 codec (to be available via OTA download.)
For the workout crowd, JBL's Endurance Peak 3 in-ear phones($99.95, February) raises the high-water mark with a resistance rating of IP68 – able to shrug off 30 minutes of exposure to fresh and salt water. The Peak 3 also improves runtime to 10 hours, plus 40 more in the charging case's reserve. Their ear-wrapping PowerHook with TwistLock design promises a never-fall-out experience.
JBL for gamers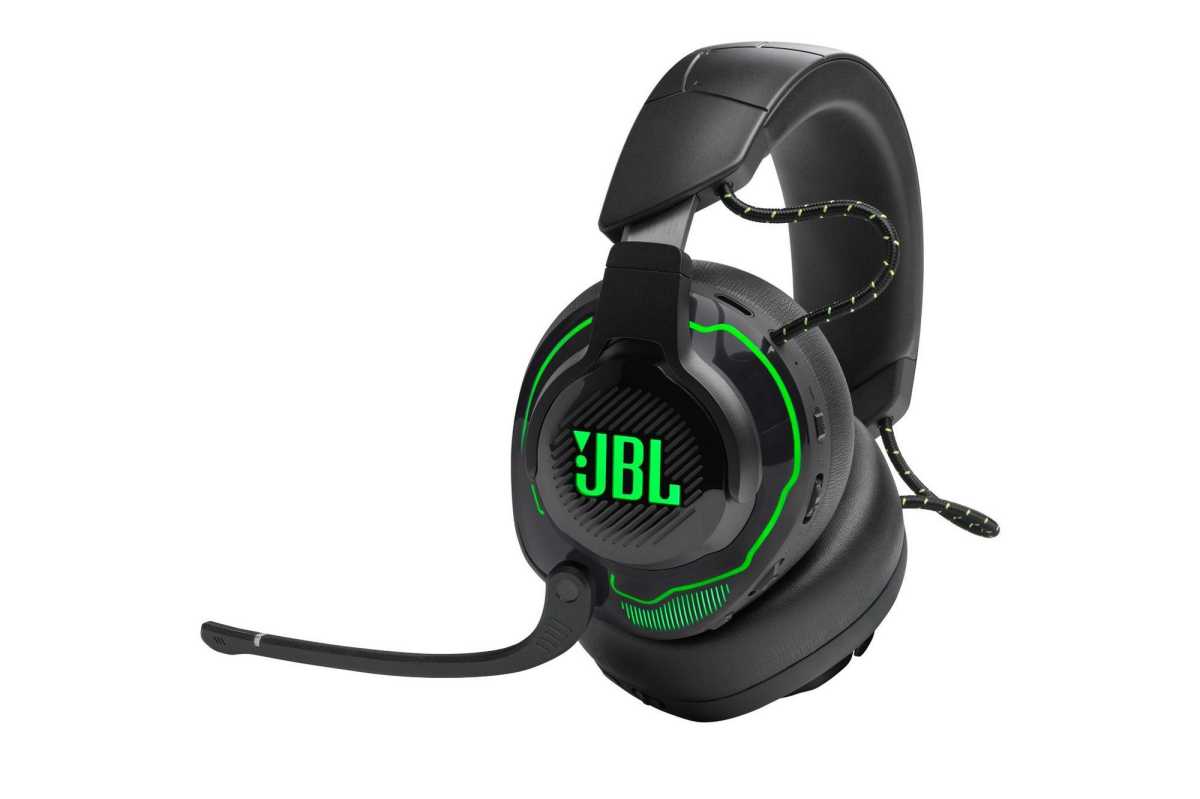 JBL
Gamers get theirs (come March) with JBL's Quantum series of over-ear and true- wireless bud headsets. Distinguished by their "X" or "P" coding, the 100X and P ($39.95), 360X and P ($129.95), and 910X and P ($299.95) headsets are matched (cosmetically and technically) for Xbox and PlayStation use respectively. The top-of-the-line Quantum 910 series jumps out with JBL's QuantumSpatial 360 audio with integrated head tracking and height-enhanced surround sound. For marathon-length gamers, the 360X and 360P offer the ability to play and charge at the same time, to keep them going beyond the onboard 22 hours of battery life.
On the bud front, the JBL Quantum TWS Air ($99.95, available summer) will appeal to multi-tasking gamers with its dual source connections that allow both a PC and a phone to be connected at the same time using the included ultra-low latency dongle.