Instagram will let users add up to four pronouns to their profile that will appear next to their username. This feature will be appreciated by users as most of them already put pronouns in their profile bios.
Instagram users can choose to have their pronouns appear publicly on their profile or only to their followers. The company announced the new feature on Twitter, saying that it is only available in a few countries just now, but will be arriving in more soon. I was able to make it work here in the U.S. in version 187 of the iOS app.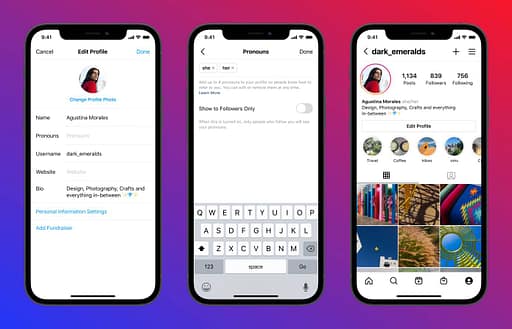 How to Set It Up
To set your pronoun, just go to your profile page, hit Edit Profile.
Look in the list of items for an empty Pronouns field (this is different from the one deeper in "personal information settings).
Tap that and you can pick what you prefer to be called by — up to four items
There's a range of different pronouns that users can choose to add to their Instagram profile. There's also an option to fill a form to add pronouns that are not available in the list of options that Instagram provides. You can add the preferred pronoun and your Instagram username in the form.
Also Read : YouTube introduces Shorts Fund with global launch
This is a small but important feature by Instagram as its push to improve inclusivity on its platform.
It both saves space (now you can put "Proud Father" and "Superhero" on two lines) and endorses gender identity as something at least as important as links and other bio info.