How to start a blog in a simple steps.
Blogging is one of those items which starts its journey from the bucket list! The very fact it is part of the bucket list means, we are passionate about it, we want to do it but don't find time to start a blog.
It is also one of those journeys we always want to do but are very hesitant to do due to some or other reason we keep it postponing endlessly.
I think if you have the passion, you should do it because it's very easier than you think to start a blog.
Let us look at some simple steps to get started. It is not the rocket science by the way 🙂
Picking the topic to start a blog :
Most of the people have already chosen the topic to blog or website to write about.
This is basic and try to get the right topic which you are passionate about. It could be from your experience, by your knowledge or just as your hobbies, anything which you are confident about sharing. This is very simple step as most people already know what to do.
Choosing the Domain Name:
This is one of the most important steps which you need to be very careful. Domain name are basically your identification they define your brand.
Important Tips:
Pick a short domain name
Never use numbers and hyphens
Avoid misspelled words as domain name
Prefer the.com domain
Be flexible and not generic
I have shared more details about these tips, you can check it out here. There are also quite a few tools which will help you choose you and to my name as per your needs.
Hosting the Blog/Website:
Web hosting is a place where you will basically take space on a web server to "host" your content including text, images, videos. People will reach the domain name and see the content you have hosted.
Web hosting companies like HostGator provide these service. When you buy Web hosting at HostGator, you will also get your domain name free for the first year. You could use the promo code "GEEKINT" to get an extra discount.
Choose any of the below plans as per your needs.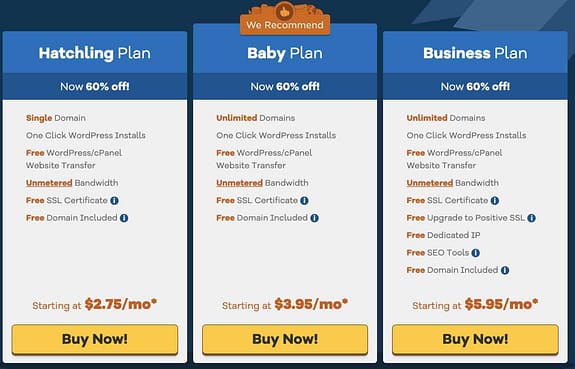 Installing the WordPress:
Finally, you own the Website site. Next steps are to install the software. WordPress is the most popular blogging software on this planet and almost every blog is powered by WordPress.
As a result most people use WordPress as their preferred way to start a blog.
In your welcome email by HostGator, you will find the cpanel link. Use the username and password provided and login into your cPanel. Installation is simple and straight forward with simple options.
Tip: Don't use "admin" as the username asked during installation.
This process is same for any Web hosting provider as shown below for HostGator.
Writing your first blog:
Once you have completed the installation of WordPress, you can reach the admin dashboard of your site with below link.
"http://yournewsite.com/wp-admin"
Well, of course, you will change the "yournewsite.com" with your actual site address. 🙂
Enter your credentials, and you will see the WordPress dashboard of your site.
In the left-hand corner, you would see the below sections.
Select Posts→Add New, to open the below section.
That's it, you can now the page to enter tile, content of the post etc. You have the canvas right in front of you to start your awesome journey. Nice is't!
Once you are ready, you can check the "Preview" option in top right corner to view it and hit "Publish" to post your very first blog to the internet.
Customization:
Now that you have your blog up and running, there could be a number of customization as per your needs. You could start by changing the theme, adding the plugins.
These are the next complementary things, which you will play around and improve your blog.

Also, once you decide the domain names, you could choose between any of the below most popular and well-established web hosting companies, which provide the domain names for free.
Bluehost: They are recommended by WordPress.org and have very good hosting options to check out with a free domain name.
Hostinger: Very fast domain hosting for your websites with excellent customer support. Check out for the special offer and domain name.
HostGator: Super cheap and great customer support with awesome hosting options to try out along with free domain name.
The one and most important part is that now you are not just mere spectator/reader, you are content creator as well, which others will also read worldwide. Keep going on!
This post may contain affiliate links, refer here for more details. Thank your for your support.