Google redesigns Photos app with important updates to make it more useful and meaningful as well.
Google Photos is one of the most popular apps by Google and is as well as more personal for its users. Its not just photos storing app, people look back at their memories, moments with this app. It has certainly received quite a good updates cycle from Google as well. 
Simplified Navigation
Google has simplified the navigation with the tab containing the only three sections. i.e Photos, Search and Library in this Google Photos updates. The photo tab will have larger thumbnails with a larger carousel for the memories. Search is now improved and is in the middle position of the bottom tab.  The library tab contains details like Albums, Favorites, Trash, Archive, and more and also Print option if you are in the U.S, EU, or Canada region.
Maps View
Apparently, Maps View is the one most requested feature in Google Photos app, It has finally made its way in this new update. It is part of the new search tab, and users can see an interactive map view with Photos and Videos. By enabling the option in-device camera, Location history, the photos will be automatically organized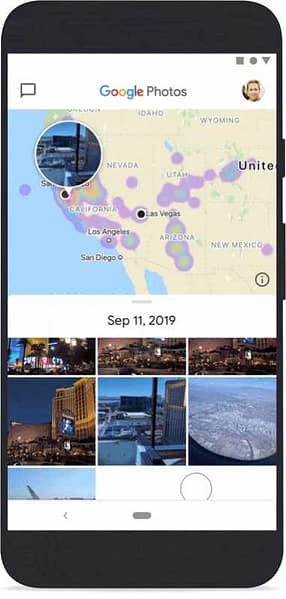 Memories
One of the important changes is the Memories section. As most of the content in the Memories from the auto-generated section, you can hide specific people or time periods and it will not show up in the Memories. 
Lastly, the Google photo icon gets a refresh with a curved pinwheel look. This will be rolled out to all the users of the Android and iOS apps starting next week as per blog post.
Google has also recently enhanced the Auto-Delete feature with default settings for both Location and Web Activity. It has also updated the access to incognito mode. The auto-delete option by default will be set to 18 months. For the new users, the Web and App activity will be set to 18 months by default.