Google Meet will add background blurring, hand raising, and other features later this year to make it stand out in the video calling apps like Microsoft Teams, Zoom.
Google has unveiled new features during yesterday's Google for Education event. Beginning in October, users will be able to blur or replace backgrounds. Blurring a background is a nice option to have if you don't want someone to see your messy home or if you simply want more privacy as Google's blog post.
According to Google, a hand-raising feature is also coming sometime later this year. The feature is designed to make it easier for teachers to identify students who need help or may have a question without them having to interrupt the group video call by speaking up in this update for Google Meet features.
Google is also adding the below moderator features to the Teachers.
Prohibit participants from joining meetings after they've been ejected or after they've been denied entry twice (launching later this month)
End meetings for all participants when class is finished
Manage join requests with ease by accepting or rejecting them in bulk
Disable in-meeting chat and set restrictions on who can present during a meeting
A setting that requires the teacher to join first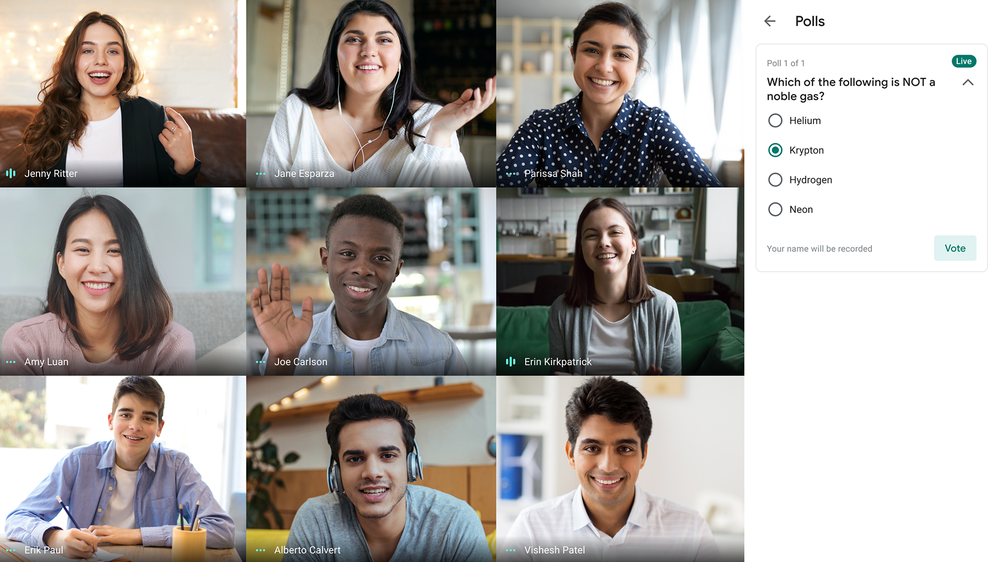 Google has released the below timeline for all the new features scheduled to be released this year.
September
A larger tiled views with a 7×7 grid so you can see up to 49 students at once
A collaborative whiteboard with Jamboard in Meet so you can encourage students to share ideas and try creative approaches to lessons
October
Blur or replace backgrounds so everyone feels more comfortable during distance-learning classes. Note: Admins can disable custom backgrounds as needed.
Attendance tracking to see and track which students attended virtual class (G Suite Enterprise for Education)
Breakout rooms so educators can split classes into simultaneous small group discussions (G Suite Enterprise for Education)
Later this year
Hand-raising to help you identify students who may need help or have a question
Q&A features to provide a way for students to ask questions without disrupting the flow of the class discussion or lesson, and polling to engage students to share their voice (G Suite Enterprise for Education)
Temporary recording will also be launched this year, With this new feature, any meeting host can record a meeting and share the recording within their domain for up to 30 days before the video expires.
In other news, Apple is taking legal action against a meal prep company called Prepear, The pear-shaped logo used by Prepear, seen above, is too similar to the Apple logo. Apple has filed a notice of opposition against a meal prep company because they think Prepear's cartoon fruit logo is very similar to Apple's own trademarked logo as per the company.