Google Maps warns travellers about coronavirus restrictions and alerts from the local transit agencies
As cities and places are opening up post pandemic, there is still a sort of hesitance to go to all the places, wondering if they are safe or not. Google Maps has released an update for Covid-19/Coronavirus.
Transit Alerts
Google with its new Google Maps update, shows alerts as per local government mandate. These alerts can help us to prepare accordingly if government mandates impact transit services or require you to wear a mask on public transportation.

These services are currently being rolled to select countries such as Argentina, Australia, Belgium, Brazil, Colombia, France, India, Mexico, Netherlands, Spain, Thailand, the United Kingdom and the U.S. and will be rolled to other places soon.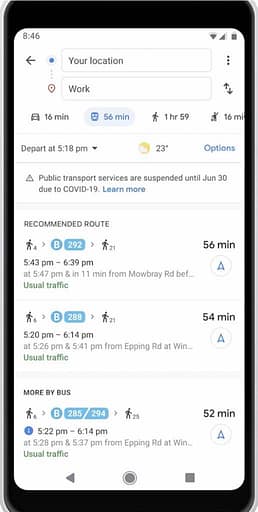 COVID-19 Testing centres
Google Maps will display an alert to remind the users to verify the eligibility for testing while navigating to Covid-19 Testing centres as per company's blog post.

These alerts will be available for medical centres in Indonesia, Israel, the Philippines, South Korea, and the U.S., and testing centre alerts will be available in the U.S.
Crowds at Public Transport
Starting today, Google Maps users can easily see the times when a transit station is historically more or less busy to plan your trip accordingly.
Simply search for a station in Google Maps or tap on the station on the map to see the departure board and busyness data, where available.
Google Maps recently has also received an update for Plus codes.
Plus codes are short forms of code for any address available on Google Maps. These are really helpful, if a particular street or location doesn't have a definite address. Codes are based on latitude and longitude – the grid that can be used to describe every point on the planet. Plus Codes is used to identify these kinds of addresses as codes and can be shared easily as digital addresses.