Google Meet is now directly part of Gmail for G Suite users.
Gmail with Meet will now allow users to easily start or join a meeting super-fast. This feature update helps the GSuite Users, to seamlessly switch between email and video meetings.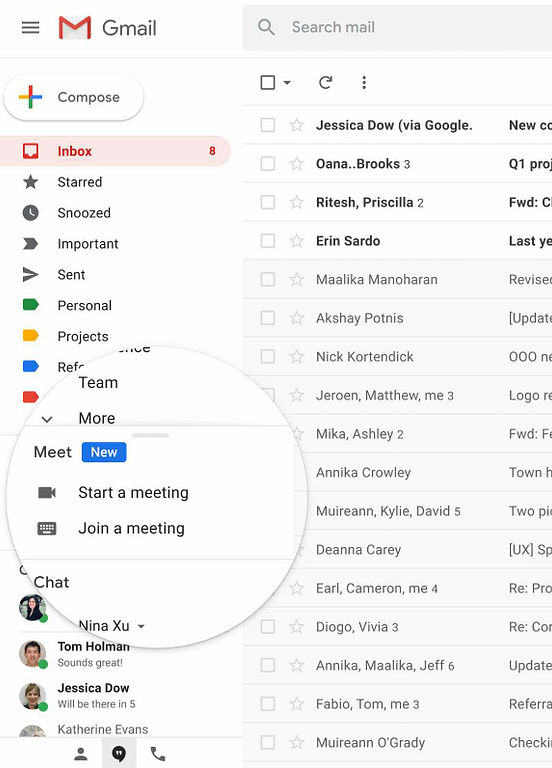 Google Meet feature is currently only available in Gmail on the web with mobile coming soon.
It will be by default ON for Admin users on all domains which can be turned off in Admin Console. There is no end-user setting for this feature.
With this integration, Gmail users will have an ease of creating and joining the meeting right from their web interface. Most Gmail users are familiar with the Web Interface and using this option would be an easy way to increase the adaption of this feature.
It would also very interesting to see if this increases the adaption in general uses and moves them away from the other corporate video conferencing tools such as Zoom or Skype.
Zoom especially has seen a huge increase in user base during this lockdown. But it does seem to have some privacy issues.
This direct enabling features also makes the integration very seamless and may increase the chances of adaptability. The users however have quite a lots of options in terms of video conferencing tools.
Earlier this month, Google had announced to make Google Meet premium video meetings—free for everyone.
Meetings are subjected to a limit of 60 minutes in this free version, though it won't be enforced until after Sept.30 this year.
Also, As the Android Platform offers lots of flexibility than others, its TV department is no exception, and it allows us to expand the storage to negate the limited internal storage problem. Let us check the ultimate guide to the Android TV external storage option. This works for pretty much all the Android TV boxes including the Xiaomi's Mi Box 4K launched recently.