Finally, a new Facebook interface is open for all. Announced at F8 Conference last year, the new Facebook interface, introduced on a Mobile version earlier, has now been released to Web. It is being enabled for all users. The new interface was tested in beta by lots of users over several months.
Dark Mode is one of the main features introduced as a part new interface. It has formally checked the Dark Mode item, similar to most of Apps/Sites. It is a much better way to use it and makes it easier for your eyes.
Updates in Search, Navigation, Events, Pages have been added in this release which is claimed to improve User Experience.
This new interface is as per the research, It spent months talking to people about how to make the web experience better for users.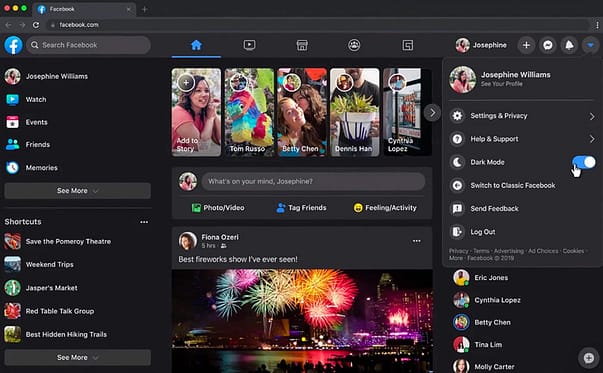 Search Faster
Find what you're looking for faster with new streamlined navigation: it's never been easier to find videos, games, and Groups, and the home page and page transitions load faster. It's similar to Facebook's mobile experience. 
Glare Reduction
Now enjoy lower brightness, alongside contrast and vibrancy, with dark mode. It minimizes screen glare for use in low light, wherever you are. 
Manage Pages
Easily create Pages, Groups, and ads on Facebook. Preview a new Group you're starting in real-time, and see what it looks like on mobile before you create it.
How to enable ?
The new Facebook.com is simpler and easier to use, with the features you know and love. We'll keep improving the experience — go to the Settings Menu and click Give Feedback to share feedback.
As the Android Platform offers lots of flexibility than others, its TV department is no exception, and it allows us to expand the storage to negate the limited internal storage problem. Let us check the ultimate guide to the Android TV external storage option. This works for pretty much all the Android TV boxes including the Xiaomi's Mi Box 4K launched recently.