Smart plugs are an easy way to get smart lighting, but they only work with lamps and they only control one device. Brilliant makes one of the more sophisticated whole-home smart lighting solutions, and its control panel works with a host of third-party products, from Sonos speakers to Ring home security systems. But until now, you've needed to hire an electrician to install one of its control panels if you weren't comfortable dealing with high-voltage wiring. Brilliant's new plug-in Smart Home Control removes that obstacle.
Instead of mounting Brilliant's latest Smart Home Control in an electrical box inside the wall and hardwiring it to your home's electrical system, this "install it anywhere" version gets attached to the surface of the wall and draws power over a thin cable from a USB wall wart. Actually—as you can see on the photos on this page—you'll plug one end of this thin cable into a backplate that gets screwed into the surface of your wall, and the control panel—a 5-inch-diagonal display with two touch-sensitive grooves to the right of it—snaps onto that plate.
This news story is part of TechHive's in-depth coverage of the best smart dimmers and switches.
Michael Brown/Foundry
The panel also has a built-in mic and speaker and is compatible with Amazon Alexa, Google Assistant, and Apple HomeKit. There's also an motion sensor and a camera with a privacy shutter onboard, so you can stream video from your home security cameras to the panel's display, or from the panel to your favorite smart display.
The display can show a host of information, including Brilliant's own smart home app, lighting controls, weather forecasts, photos, controls for third-party products, and more. The pre-installation photo at the top of this story has a transparent label showing an example. You can map a variety of functions to the panel's touch-sensitive grooves, from dimming compatible smart lighting to adjusting the volume of a Sonos speaker. The whole assembly is about 5/8 of an inch thick and hugs the wall nicely.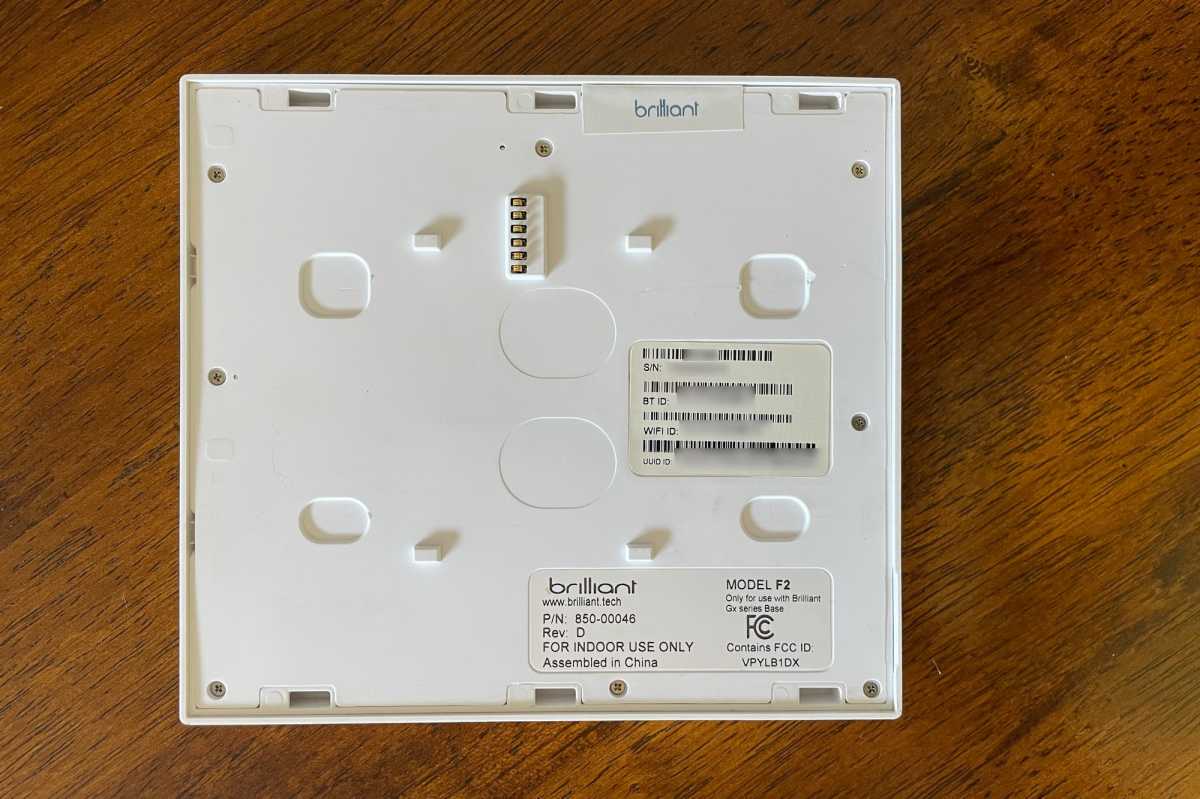 Michael Brown/Foundry
Brilliant says its new controller is perfect for consumers who don't want to deal with wiring, and for professional installers who are not certified to perform electrical installations. If you don't want a wire dangling from the panel, you can poke a hole in the wall behind the plate, drop it down the wall, and fish it to the electrical box housing the outlet you want to plug it into. That could be more difficult than it sounds. While Brilliant provides something like 15 feet of cable, there might be one or several studs inside the wall between the location you want to hang the panel and the outlet you need to plug it into.
The Brilliant product line consists of 1-, 2-, 3-, and 4-switch panels with touchscreens and a single-gang touchscreen only switch. Once you install the Brilliant app, you can control a host of third-party smart home products, including Sonos speakers; Samsung SmartThings devices; Kwikset, Schlage, and Yale smart locks; Ecobee, Nest, and Resideo smart thermostats; and lots more. Brilliant also has two smart-lighting-only products: A single-gang smart dimmer without a display, and a smart plug.
The Brilliant Smart Home Control Plug-in Panel is available now at Amazon for $399. The manufacturer sent us a sample for a hands-on review, and we've asked for a couple of other Brilliant products so we can re-evaluate the entire ecosystem as it stands today. We'll post an in-depth review in the coming weeks.