At a glance
Expert's Rating
Pros
Outstanding audio detail
Easy to set up
Roon Ready
Works with almost every imaginable audio source
Cons
No Chromecast support
Limited ability to customize EQ
BluOS app doesn't display resolution of streaming tracks
Our Verdict
Bluesound has played no small role in creating the market for hi-res streaming, and the Node X is a fitting way celebration of the company's 10th anniversary.
Price When Reviewed
$749.00
Best Prices Today: Bluesound Node X
$749.00
In the decade since the Canadian audio company Bluesound first launched its Node wireless streamer, audiophiles have embraced the idea of high-resolution streaming audio. The new Node X, released in a limited edition to celebrate the device's 10th anniversary, is Bluesound's best streamer yet.
Think of the Node series as a Swiss Army Knife for all kinds of wireless playback. It can play your own music files from a local server (including Roon servers), stream music from subscription music services, tune in to internet radio stations, act as a Bluetooth receiver for a home audio system, and integrate with powered speakers (including Bluesound's own). It can also operate with other BluOS devices as a multi-room audio system.
What's different about the Node X? Bluesound has given it a new silver finish, upgraded its DAC and internal headphone amp, and included a 1/4-jack for headphone playback. Most of the new tech will probably eventually show up in later Node models, but that striking silver case is likely to be exclusive to the Node X.
Very few users will take advantage of every Node X feature, but Bluesound has designed a device that can handle any wireless music option you're using now, and it will adapt if you want to change things up later with new sources.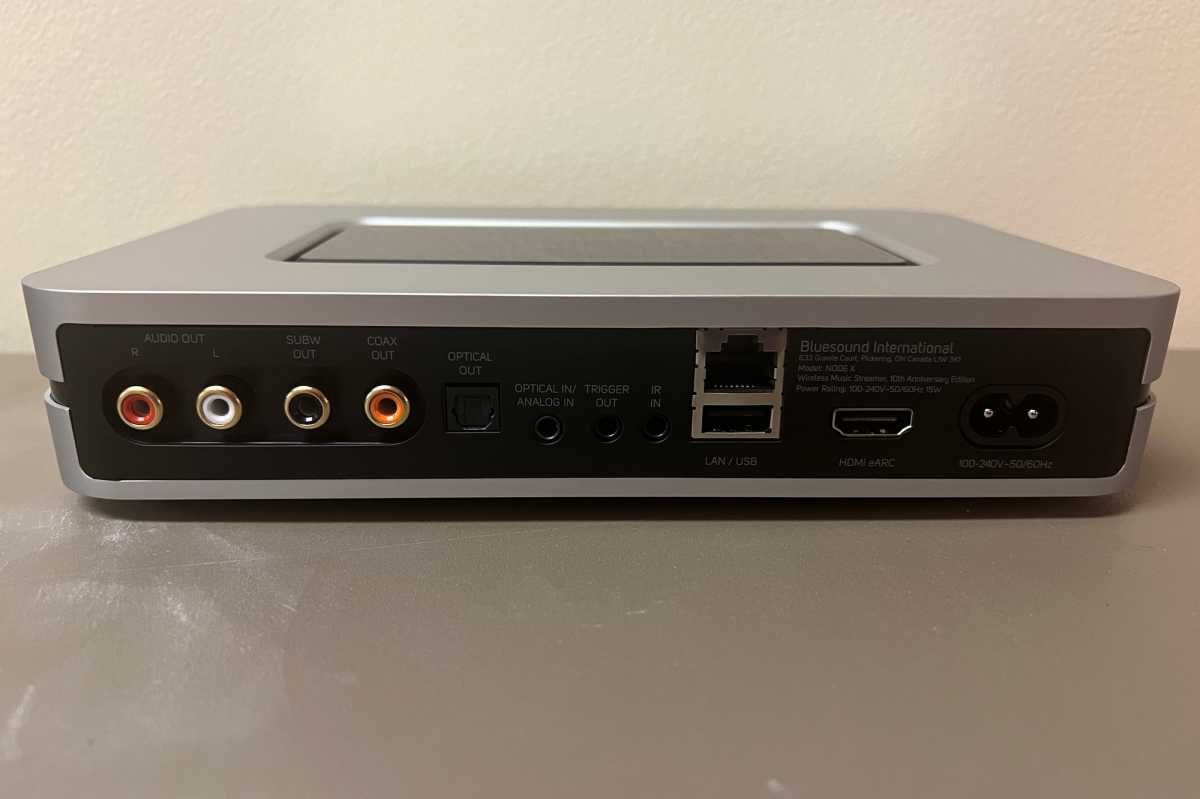 James Barber/Foundry
Is the Bluesound Node X a well-built audio device?
The Bluesound Node X is a sleek rectangular box measuring 1.8 x 8.7 x 5.7 inches (HxWxD) and weighing around 3 pounds. It has a recessed black band around the middle, creating a reverse ice cream sandwich look. There's a Bluesound logo on the front top half and a 1/4-inch headphone jack on the bottom half.
The top surface of the Node X has a touchscreen with a proximity sensor, so it lights up when your hand approaches it. The volume control is an LED slider and there are LED touch controls for play/pause, next track, previous track, and five station or playlist preset buttons.
The Node X could be an excellent desktop audio system when used with powered speakers. That setup would make it easy to use the built-in THX Achromatic Audio Amplifier with headphones. I used the Node X with a home audio setup and controlled it with either the BluOS app or the included RC1 remote.
James Barber/Foundry
The heart of the Node X is a new ESS 9028Q2M Sabre DAC that supports resolutions up to 24-bit/192kHz, with support for MQA playback. That's the biggest upgrade in this unit and it's the same DAC used in the lauded Cambridge Audio DacMagic 200M. The DAC is paired with a quad-core 1.8GHz ARM Cortex A53 processor.
There are multiple ways to input audio into the Node X, including HDMI eARC, Wi-Fi, gigabit ethernet, Apple AirPlay 2, Bluetooth (with support for aptX HD), and USB Type A. Bluetooth is bi-directional, so you can stream music from an Android device to the unit or send a signal to a wireless headphone and listen without being tethered to the device.
Using streaming services with the Node X
The Node X is the perfect partner for both Qobuz and Tidal. Listeners can take advantage of those service's better-than-CD quality streams and control them via the excellent BluOS app for iOS and Android.
I usually listen to Qobuz and Tidal with headphones and a DAC, since that's been the best way to enjoy the immersive detail each service can offer with its high-resolution audio files. Listening to the 2023 remaster of Miles Davis' 1960 album Workin' With The Miles Davis Quintet via a 24-bit/96kHz stream via Qobuz, I was blown away by how much better it sounded than my CD copy. The silent parts are dead silent and the breaths that both Davis and saxophonist John Coltrane take have a presence I've never heard before. Would a mint LP copy from six decades ago sound better than this? I suppose it's possible, but the Node X offers a listening experience that turntables or CD players in the same price range can't begin to match.
Other music services that can be controlled directly from the app include the Neil Young Archives, Spotify, Nugs.net, SiriusXM, TuneIn Radio, Deezer, Amazon Music, Napster, and iHeartRadio.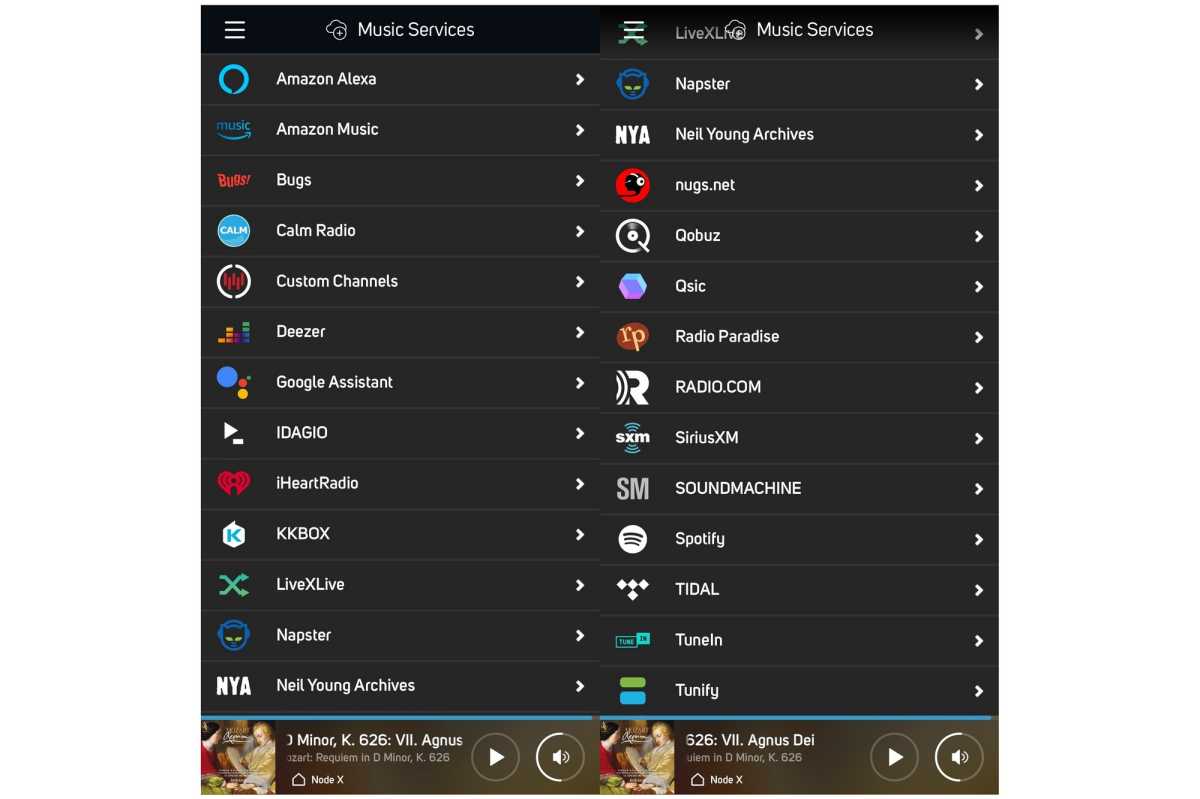 James Barber/Foundry
Unfortunately, Apple Music subscribers can't get in on the hi-res action with this streamer. The Node X sounds great playing tunes from Apple Music via AirPlay 2, but the stream lacks the detail you'll get from a Qobuz or Tidal stream because Apple limits output to CD quality on third-party devices. This is frustrating, since Apple Music playback sounds fantastic with headphones and a DAC.
Spotify also sounds fine, but the Spotify Connect stream is still lossy. If Spotify ever delivers on its promise to deliver hi-res audio, the Node X will be able to handle any audio resolution that the streaming service might conceivably choose to use.
The first streaming boxes touted their ability to stream radio stations over the internet, and the Node X continues that tradition. You can create station presets on the top of the unit and in the BluOS app and easily keep track of your favorite sources. Bandwidth costs broadcasters money, however, so you should realize that those radio streams usually come with a low bit rate.
To be clear, the Node X is an outstanding option for any online streaming source you'd choose to use, and each one will sound as good as it possibly can. If your listening is limited to Spotify and internet radio, you just won't be taking advantage of everything the Node X has to offer.
Using the BluOS app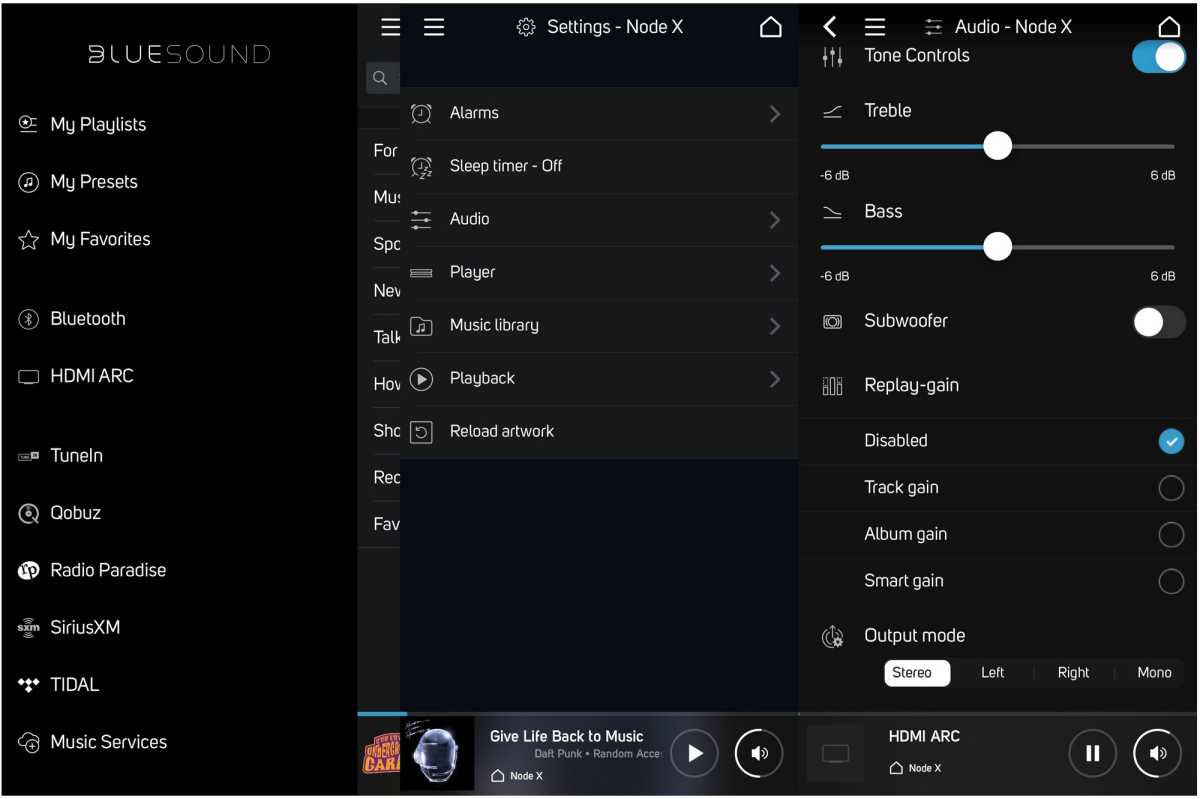 James Barber/Foundry
The BluOS app makes it easy to add supported streaming services to the app and access your catalog from within the interface. None of those interfaces quite match what you'll see with each service's freestanding app, but Bluesound has designed the BluOS app to present a consistent interface that's easy to use once you get up to speed with how it works.
For anything that's not accessible from within the app—such as Apple Music, the game streams offered by Major League Baseball, or radio stations that don't stream via one of the supported radio apps—users can employ AirPlay 2 or Bluetooth to fill in those gaps. Android users should know that BluOS does not support Chromecast.
Users looking for elaborate equalization tweaks may be disappointed, because only treble and bass levels can be adjusted in the Tone Control setting. There's also an option to adjust crossover if you're using an outboard subwoofer.
The best features in the BluOS app are the My Playlists and My Favorites options. Each function aggregates your selections from your subscribed services, and the favorites include artists, albums, songs, playlists, and stations. Each list is broken down by service, making it easy to keep track of your favorites without remembering which service you saved them on. This is especially helpful with radio stations, as many of them are exclusive to iHeartRadio and don't appear on TuneIn or vice versa.
James Barber/Foundry
The worst feature of the app is that it doesn't display the streaming resolution of the original track beyond "CD" or "HR" for Qobuz. Users can always switch over to the Qobuz app for the details, but that's a pain because the track you're playing won't be the first thing you see when you switch. Maybe it's a restriction from the streaming services or perhaps it's a limitation in how the app was coded, but a solution to this problem would be welcome. Those of us who pay extra for high-resolution streaming services want to see that level of detail.
Should you buy the Bluesound Node X?
The Node X is a dynamite upgrade to a home audio system for anyone looking to integrate modern streaming music into a setup that's been playing vinyl, CD, and tapes. If you have an open input on your preamp or receiver, you'll have access to a world of digital music via the internet and from files stored on your home network.
If you haven't already invested in a home audio system, you can connect the Node X to powered speakers and you'll have a digital music streamer setup that can play any file or online source you might choose. You could later add a Bluesound Hub ($319) nearby and plug in a turntable, CD player, or any other legacy format with an RCA connection to the Hub and enjoy the benefits of whatever source you want.
If you're already enjoying high-resolution audio from a personal collection of audio files or via a streaming service like Qobuz or Tidal, the Node X is a great value proposition at this price. There are other wireless streaming DACs that feature more expensive conversion chips and front-panel displays, but those can cost two, three, or even five times as much as the Node X. Quite a few vinyl purists are starting to recognize that high-resolution digital audio can be a compelling addition to an audio system setup rather than a replacement for turntables, cartridges, and their beloved round slabs of PVC. The Node X and its companion BluOS app make streaming a compelling proposition for integrating both formats into your system.