WordPress is the largest content management system in the world. It has a large number of plug-ins and themes for you to use. It often gets overwhelming to find the right theme for your blog and bogged down to find the perfect theme from the best WordPress themes out there. The correct theme for your blog is often the brand or signature value for your blog.
As a novice blogger, it may look like a very tedious task to find the right theme for your blog. As a result, sometimes new bloggers often end up choosing the default blog them by WordPress, which is also good, but with very few options to enhance.
In this sea of endless themes, we have chosen the best WordPress themes for the year 2020. We would focus on the right set of themes and show details based on the purpose of the themes, which may ultimately the same for you as well.
Let us check out the best WordPress Theme for your use.
Note: We may earn commissions from some of the services/products on this site to help us to run this site. It won't cost you any money. For more details please refer to this link.
Ultra
Ultra is simply the most powerful and yet the most simple to use WordPress theme created by Themify. With its awesome drag and drop builder, it basically makes designing and creating a website within no time.
It caters to a variety of template types to choose and beautify your site with the right theme and running no matter what, making it an ideal choice for one of the best WordPress themes for business.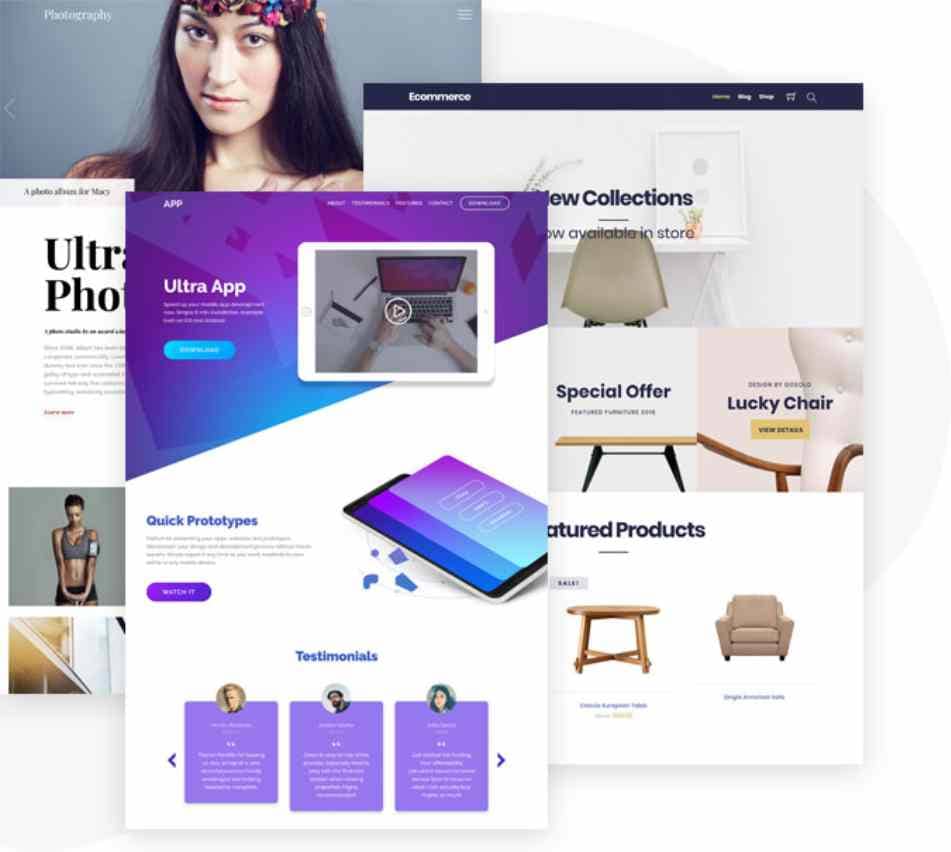 Type
Yoga
Construction
Fashion
Lifestyle
eCommerce
and lot more
Features
60+ Predefined Layouts (Company Page, Landing Page, Subscribe etc)
17+ Header / Page Styles
5 Unique Single Page Layouts
6 Header background options
Typography etc
With these options, it should easily help you to create a very good and customer likeable website as per your choice.
Check out the Ultra theme here.
Navigation Pro
Navigation Pro is a bright and very versatile layout to help your site. It includes custom block sections to create pages that capture attention and switch visitors into customers.
Type
Features
Atomic Blocks Sections & Layouts
Advanced Gutenberg Support
WP Forms Optimized
Accessibility Ready
It can use the Gutenberg blocks onto the home page of a replacement site automatically and create a matter of minutes!
AMP support is also available and it renders well on the Mobile Site.
Bluehost provides very good options and are recommended by WordPress.org, check out with a free domain name for your site.
Check out the Navigation Pro Theme here.
Pinshop
The products load smoothly as you scroll down the page. Not only does it look fantastic, but it also provides an excellent user experience. The shop items can be added to the shopping cart instantly without having to go to the merchandise page.
Type
Unique Online shopping
Boutique
Accessories
Features
10 theme skins
WooCommerce is required to run with this theme
Responsive layout
Ajax shopping cart (shop items can be added without reloading the page)
Child theme support
Pinshop offers a very unique shopping experience, go for it to give the best user experience to your customers. This is one of the best WordPress themes for ecommerce.
Check out the Pinshop Theme here.
Daily Dish Pro
Daily Dish Pro is a specially themed site for your restaurant business. It offers a clean appealing layout to focus on the recipes, booking, and business.
Type
Hotels
Restaurants
Cuisine
Takeaway
Features
HubSpot integration
Gutenberg ready
Color customizer
Custom background
Custom header
If you have recently started a restaurant or intend to start a takeaway, this theme is best for you. It has mobile responsive support to make your site look beautiful on mobile devices.
Check out the Daily Dish Pro theme here.
Stack Theme
Stack theme is inspired by the Tiles' look and feel. It offers a modern and contemporary style UI for the website. Tile or Stack design makes it very easy to click on the site, making it an ideal case for Touch screen devices especially tablets.
Type
Corporate Blog
Portfolio
Photography
Features
Unique design for each post
Tiles Add-on Support
WooCommerce Support
Custom Header
Mobile Responsive
Check out the Stack theme here.
Hostinger provides very fast domain hosting for your websites with excellent customer support. Check out for the special offer and domain name.
Academy Pro Theme
The Academy Pro theme is one of the best-suited themes for Education and Online Courses. This is the simple and very easy to use theme specifically designed for educational content marketers, online course creators, and membership site owners.
Type
Educational Sites
Online Courses
Online Marketing
Educational eCommerce
Features
Genesis Framework Package Included
Accessibility Ready
Custom Header
Landing Page
Pricing Page
This should be an ideal fit for the educational institutions to set up their online presence and in a very professional way.
Check out Academy Pro theme here.
Magazine Theme
Magazine theme allows you to build any type of layouts very easily. You can build complicated grid layouts like Guardian, CNN, MSN, and BBC in minutes. It is a responsive & retina display theme full of many features.
Type
Online News
Technical News
Opinions Sites
Features
42 pre-built layout options
Breaking news ticker
Mobile & Retina support
Mega Menus
6 Sidebar Options + 7 Post Layouts
Users intend to build News or Technical articles should definitely go for this theme to make an impact.
Check out Magazine theme here.
Hostgator offers super cheap web hosting and great customer support with awesome hosting options to try out along with free domain name.
Wellness Pro Theme
If your choice of niche is healthy living and wellness, then this is the perfect theme for your website. Wellness Pro is a comprehensive theme solution in this segment. It has an appealing user interface with a focus on stunning images to reflect this exquisite theme.
Type
Wellness Site
Healthy Life
Spa
Premium fitness
Features
Easy Install and Setup
12 different widgets
Custom Header
Mobile Responsive
Translation adaptable
Wellness Pro is clearly an adept fit for this premium niche, where it offers a very elegant and excellent identity for your business.
Check out Wellness Pro theme here.
Bizco
Bizco is a great professional theme to showcase your service or products to your customers in a very pleasing manner. This custom page template helps you to change the display of your pages and posts easily to enhance the visual appeal to your customers.
Type
Product Feature
Service
Brand Value
Features
Six theme skins.
Sidebar visibility control in posts and pages.
Homepage highlights handled by custom post type.
Responsive Design
Threaded comments and custom menus.
Product features require a very professional and pleasant appeal to the customer, this theme perfectly fits it, making it easily one of the best WordPress themes for business.
Event
This theme is a bold, and responsive theme designed for the Events category. With this theme, in minutes, you can create complex page layouts with parallax scrolling and animation effects from scratch. The event comes with three custom post types specifically built for the event theme: Event, Gallery, and Video posts.
Type
Features
Themify Builder support
Parallax scrolling
Animations
Support for different Post Types
Statistics Icons & Share
Events is a versatile them which also supports bands, nightclubs, restaurants, bars, check this out.
Foodie
Foodie Pro is a beautiful theme with a minimalist style and plenty of color and typography options. It is a very cheerful theme with a refreshing focus on cuisine. The post is made delightful and is very appealing.
Type
Food/Cuisine Blogs
Restaurants
Recipe
Features
6 layout options
Custom Header
Mobile Responsive
3 homepage and 5 site wide widget areas
Translation ready
Foodie is a very UI rich theme and is a superb choice for any Food based websites. This will easily provide a very good experience to the users.
Check out the Foodie Pro theme here.
Mai Lifestyle
Mai Lifestyle is a perfect theme for Wellness, Fitness, and Lifestyle Sites. It has a wide range of flexible image-rich layouts, including full-width sections and archive options.
Type
Features
Custom Header
6 layout options
Landing Page
Theme customizer
Different theme options
This theme has a great mix of content and photos with a lovely interface. It should abode well the unique customers of this niche.
Check out the Mai Lifestyle Pro theme here.
Author Pro
This unique theme is for the published authors to help build a online library of books with natural design and excellent interface.
With its user-friendly features, Author Pro helps you to connect with your readers.
Type
Authors
Lifestyle content
Wellness
Features
Color styles
Custom background
Custom header
Theme customizer
Mobile responsive
This theme has a great mix of content and photos with a lovely interface. It should abode well the unique customers of this niche. It makes a good use case for one of the best WordPress themes for eCommerce.
Check out Author Pro theme here.
Hope this helps to you to find the right WordPress theme for your awesome website/blog!
This post may contain affiliate links, refer here for more details. Thank your for your support.