Apple launches legal action against a small meal prep company over the logo similarity
Apple is taking legal action against a meal prep company called Prepear. Apple has filed a notice of opposition against a meal prep company because they think Prepear's pear fruit logo is very similar to Apple's own trademarked logo as per the company.
What is the problem ?
Apple believes that it is a violation of the Lanham Act. The Lanham Act provides for a national system of trademark registration in the US that protects the owner of a federally registered mark against the use of similar marks if the use is "likely to result in consumer confusion, or if the dilution of a famous mark is likely to occur".
According to Apple's notice of opposition, Prepear's mark consists of a "minimalistic fruit design with a right-angled leaf, which readily calls to mind Apple's famous Apple Logo and creates a similar commercial impression".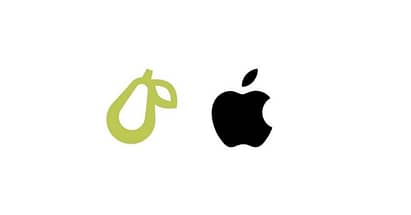 The notice adds that since Apple's logo is famous and is instantly recognisable so the similarities between the two logos will "overshadow any differences" and cause the ordinary consumer to believe that the two are related to, affiliated with or endorsed by Apple.
It seems as per Apple, users may look at Prepear's logo and think that the recipe app is an Apple product because it is something Apple might do. Apple which already has many health and nutrition-related apps and services already.
Natalie Monson, Prepear's co-owner, posted on Instagram that she is not trying to get people to stop using Apple products but she wants to push back on the company's stance.
"I feel a moral obligation to take a stand against Apple's aggressive legal action against small businesses and fight for the right to keep our logo," she wrote on her Instagram post which shows the two logos side by side.
"We are defending ourselves against Apple not only to keep our logo, but to send a message to big tech companies that bullying small businesses has consequences," she added following this up by the link to the petition, requesting people to sign it.
As per The Verge, article Prepear's co-founder Russell Monson has started a petition 'Save the Pear from Apple' and has already collected 14,000 signatures. Monsoon has written that their company is a small business with five employees and they cannot afford a legal battle with the likes of a big company like Apple and that it's been 'terrifying'.
In other news, Facebook is finally rolling out the Messenger Rooms on WhatsApp on Web. It will be rolled out Mobile platforms in near future.