The Best Free Instant Domain Name Generator Tools for your Website
Domain Names very important aspect of your website creation journey. You need to do a lot of brainstorming for this exercise. It takes lots of time to come to a very good to domain name. Are there any Instant Domain Name Generator Tools to help us ?

You want a domain name which is both easy to remember and also wants something catchy too. The problem also lies, even after extensive research on your side to come up an domain name, it may end up not being available in .com.

Thankfully, there are quite a few instant domain name generator tools which would help you to get through this cumbersome process.
Let us check out the 7 best domain name generator tools available online to help you in this journey. These tools will help you to zero in to your domain name.
1. Lean Domain Search
Lean Domain Search offers a very clean interface to search for domain names.
This site provides a combination of various words and gives you a list of suitable domain names.
The search results will show a very good number of suggestions. It could range from hundreds, if not thousands, of domain name ideas. The search results for this instant domain name generator are only available for .com domains by Bluehost.
Easily remember and innovative domain name ideas is its speciality. Suggestion starts from your exact keyword and mix a variety of other words. It offers to check availability in Twitter user name for your domains for your suggestions.
It also offers other options such as below.
Track the search history
Share option for your results
Save your best domain names
Lean Domain Search is one of the very first sites you should check out for any domain name suggestions.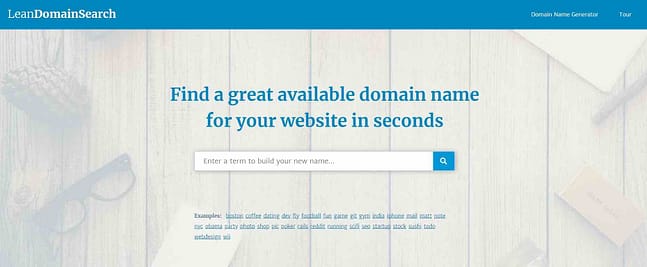 Link: https://leandomainsearch.com/
Hostinger is very good in terms of fast Webhosting. Very fast domain hosting for your websites with excellent customer support. Check out for the special offer and domain name.
2. NameMesh
NameMesh is one of the oldest and best instant domain name generator tools out there.
It has about 20+ generators to choose the domain name. This tool works out best if you have 2-3 keywords to ponder on. It combines more than 6M+ words to get the right keyword for your domain name.
The search results are quite a big list of domain names. The list is categorized as below.
Common
Similar
New
SEO
Short
Fun
AI
Premium
Extra
Mix
Along with the .com domain, you can also search for .io, .co, and .net domains for your multiple domain extension search. As premium domain also listed, you could snag one if it is important for your brand and business name.
Link: https://www.namemesh.com/
Bluehost are recommended by WordPress.org and have very good hosting options to check out with a free domain name.
3. Bust A Name
Bust A Name drives the domain name suggestion with lots of filters.
These filters helps you to offer lots of quick variety of suggestions and ultimately finding the domain name as per your expectations. This tool has options such as "starts" or "ends" , a character limit for your keyword. Along with .com extension, this tool also offers in .net, .org, .info, .biz domain extensions.
Another important feature is "Make a Random Domain". This tool office you random domain names if you don't have a particular keyword in mind. But we have found out that this really offers some good domain names which you can use right away and is one of the best random domain name generator.
This is one of the features that makes it very interesting if you want catchy names for websites.
Link: http://www.bustaname.com/
4. Nameboy
Nameboy generates the quick list of suggested domain names based on upto two keywords. You can enter up to two keywords and Nameboy will quickly generate a websites name list of suggestions.
Suggested domain names also contain the list which are available for resale. The list of all domain extensions is spread across different extensions including the new ones such as .app, .blog etc
You can also see hyphenated suggestions or rhyming keywords. This instant domain name generator tool works well if you already have an idea of what keywords you want to use but are looking for suggestions on different variations of it.
Link : https://www.nameboy.com
5. Namestall
Namestall provides a interesting ways of searching domain names and offers a lots of variety of tools to lock-in your domain name. This domain name generator tool offers the below filters.
Popular keywords
Parts of speech
English words
Categories
You can choose if you want your favourite key word at the beginning or end of your domain name. You can also add an hyphen (strongly not recommended) to your web address.
NameStall's websites name list has the options that are both taken and yet to be registered.
Along with this, NameStall also features a domain name suggestion tool as well as an instant domain search tool, brandable domain name list, including an high paying keywords search tool.
Link: http://www.namestall.com/domain-name-generator
6. Shopify Business Name Generator
Shopify has a tool for the domain name generator part from being a sales site. Shopify's Business Name Generator as the name suggests only generates business names.
This can be an ideal tool for startup domain names or e-commerce domain names for your brand or company.
Shopify domain names resonate a lot among the users who want professional websites or the sites to have any digital or physical product online.
Unlike other tools here, which are blog name generators and create catchy names for websites, this tool by Shopify is ideally an creative business name generator.

Suggestions are only for .com extensions. It encourages to use the given domain name for the Shopify page, however, you can purchase the domain from other sites.
Link: https://www.shopify.com/tools/business-name-generator
HostGator are super cheap and provide great customer support with awesome hosting options to try out along with free domain name.
7. Instant Domain Search
Instant Domain Search as the name suggests starts to give you the website names suggestions as soon as you type.
It will also show you the alternatives available in various extensions. These works well in cases where you already have domain in your mind.
It also gives offer to purchase the domain names. If the domain is taken, it also offers ways to make an offer to the domain owner. Any website names which are up for auction can are also listed.
Link : https://instantdomainsearch.com
Hope you like our list of 7 best instant domain name generators and saved some time.
All the best!
Most of the people have already chosen the topic to blog or website to write about. This is basic and tries to get the right topic which you are passionate about. It could be from your experience, by your knowledge or just as your hobbies, anything which you are confident about sharing. Don't hold back and get started. Let us look at the simple steps to start a blog or website on your own.
This post may contain affiliate links, refer here for more details. Thank your for your support.